How to Make It as a Digital Nomad With a Work From Home Job
August 27, 2020 | 4 minute read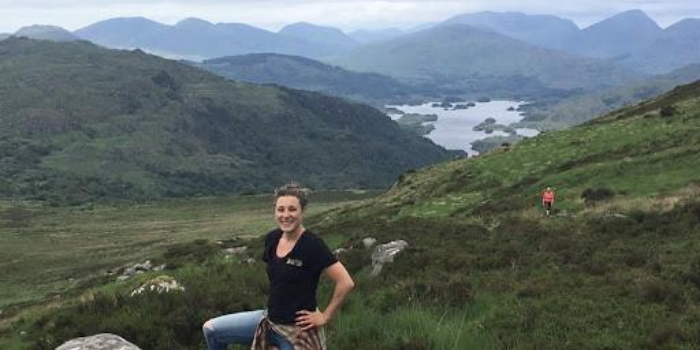 I've only ever had one ambition in life: explore the world. At 32 years old, I'm proud to have some pretty serious travel under my belt. Through these travels, I've discovered my desire for freedom isn't a flaw, it's a strength; it means I'm flexible, resilient and passionate about something.

As a child, my classmates babbled on about becoming marine biologists and the mansions they'd own, while I was daydreaming about riding camels through the Sahara and hiking through moss-covered woods.

Life hadn't exactly played out the way I'd envisioned. Instead of sweating under a desert sun, I found myself shivering in an air-conditioned office. I was feeling unfilled and, unbeknownst to me, was on the verge of being let go from my full-time marketing gig.
When the layoff happened, instead of looking for another 9-5, I decided to cope by doing the thing I'm most passionate about: backpacking.

While wandering, I saw people working from laptops in cafés, on patio rooftops and in hostels. They told me they were digital nomads - people who work remotely from their laptops while travelling the world freely. I continued to travel but just couldn't shake this newfound possibility: I could explore the world while making an income at the same time.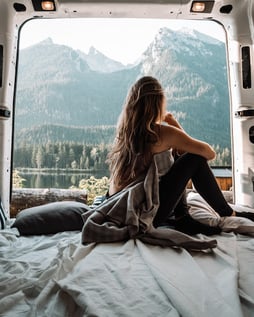 Coming home was hard and I had no desire to work in a stuffy office, again. So I started to look for work from home jobs to support the lifestyle I desired.

After a fair amount of rejection from oversaturated online job boards, I decided to take a different approach and tell my network I was looking for work. That's when I came across Alysha from Tangible Words.

I'd worked with Tangible Words on a Growth-Driven Design project and she remembered me! I was excited to learn Tangible Words was looking for graphic designers and HubSpot technicians. Having the technical and creative skills required, I applied.
After landing the job and proving I could be relied on, they had me take their content writing course. This allowed me to increase the number of hours I worked and gain more on-the-job skills. Not only did the course help make writing a less daunting task for me, I saw how just a few words on a webpage can translate into actual sales!
The Digital Nomad Life Is for You If You're...
1. A Good Communicator

Get into a good habit of over-communicating with your team. Discuss your expectations for one another, whether you are an employee or contractor. Be transparent about your availability and what timezone you're working from. Knowing time zone differences will help you plan when your work will be submitted and when you can be contacted and collaborate on projects in real-time.
2. Easy to Reach

Know the best way to contact your team in case you have questions or get stuck on a project. Knowing the best means of communication - phone call, text, email- and which is best for urgent matters will benefit you greatly.
3. Proactive
Be proactive in getting your work finished on time and ask any questions long before projects are due. Get clarification when you need it. Distributed workplaces have their own set of challenges, and communications and instructions can be muddled by interpretation, guessing and laziness. Be proactive in asking about ways you can improve your quality of work and if there are other opportunities you can take on to learn, grow and make more money.
Dreaming of the Nomad Life? Work From Home First - Here's Why:
As exciting as the digital nomad life may seem, it's about creating a lifestyle that supports working remotely while enjoying the added benefit of travelling. The keyword here being work.
It's recommended you secure an income (and savings) before you start travelling.

Start looking for work from home jobs to support the lifestyle of your dreams because they:
Allow you to work from anywhere in the world, while gaining experience and making an income.
Allow you to feel trusted with important work, rather than being micromanaged.
Let you get ahead of the work from home trend by starting on a remote job now. COVID-19 has

increased

the demand for work from home jobs for both businesses and employees.
Visit Our

Careers Page

to Create the Life of Your Dreams!

References:
https://blog.hubspot.com/marketing/digital-nomad
https://www.theguardian.com/technology/2020/mar/13/covid-19-could-cause-permanent-shift-towards-home-working
TW Blog Sign-Up
Learn more about how to grow your business and improve your sales team process.