This is a guest post by Clutch.co.
Inbound marketing is centered on creating relationships, sharing information, and creating meaningful content that will draw in a customer already interested in your product. Hiring an inbound growth marketing agency is one of the best decisions a business can make. You save time and money focusing on qualified leads, and understanding how to improve a product to satisfy your customer base. As a Hubspot certified partner, Tangible Words has spent years perfecting the inbound marketing approach, and clients have seen measurable results.
So, we've answered the 'why' behind hiring an inbound marketing agency, but we thought it was important to address the 'how.' We take it for granted that there are so many marketing agencies flooding the marketplace. Yes, there are a ton of options, but how can buyers narrow them down to one partner—one that can take the time to understand their business, truly be efficient in marketing best practices, and any other of the client's needs? Clutch.co, a B2B market research firm, offers just the solution. Their ratings and reviews platform has empowered buyers with the ability to make this decision, diligently and efficiently.
Tangible Words Inbound Marketing Agency is One of the Top 10 SEO Companies in Canada
How? Clutch.co has a proprietary research methodology that combines data, client feedback, and client work to evaluate the agencies featured on their platform. Tangible Words has exhibited outstanding performance, competing successfully with a number of other reputable inbound marketing companies.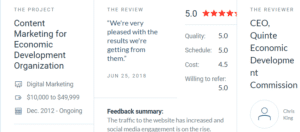 We specialize in many different digital tactics, including social media, content creation, and SEO. Clutch's sister website, the Manifest, has also recognized Tangible Words for their achievements in SEO, as one of the Top 10+ SEO Companies in Canada, which is no small feat in a field that is highly competitive and dynamic. Nothing compares, however, to the feedback they've received from their clients both directly and on Clutch.co. Business research shows that reviews are an essential piece of online reputation management, and as Tangible Words continues to grow, it's important that they let their clients, and not just their own marketing collateral, be their advocates.
Tangible Words couldn't be more thrilled that their efforts in their partnerships are apparent and appreciated by their clients.
"I can tell that Tangible Words is 100% committed to our success and are doing all that they can do to ensure it." Executive VP, Consulting Firm
Working with Tangible Words is like having an in-house advertising agency. From the connect and

explore to advise and propose stages, they are there every step of the way, committed to building strong lines of communication with their customers. As inbound marketing continues to evolve, Tangible Words will also be seeking new ways to improve and grow, and Clutch will continue to be an invaluable part of this journey.