Tangible Words Recognized as a Canada 2019 Leader by Clutch
February 14, 2019 | 2 minute read
We are proud to announce our recognition by Clutch as the one of the top inbound marketing agencies in Canada. Specifically, Tangible Words is featured in the top 10 inbound marketing agencies shortlist. We've achieved this level of recognition from Clutch, and many others, due to our longstanding reputation in the marketing and sales industry, trust with our clients, and our dedication to serving our client's every business need.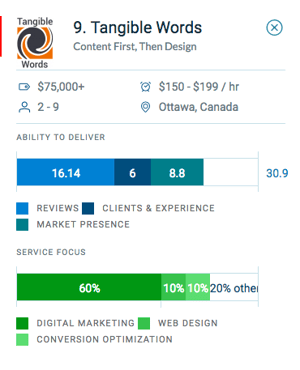 Since 2010, Tangible Words has grown into a leading Canadian inbound marketing agency. We help our customers achieve shorter sales cycles, better quality leads, and have increased website sales for clients by over 300%. We are a dedicated team of university trained professionals who deliver on measurable results and enjoy forming lasting partnerships with our clients. We're committed not to short term results, but the long-term success and continued growth of our clients. We even publish a library of resources so that everyone can become inbound marketing experts.

Clutch is a B2B services ratings and reviews agency that strives to connect buyers with the best global service providers. Clutch's extensive research covers industries such as IT services, mobile app and web development, and advertising and marketing. With this research, they are able to provide buyers with the crucial market insight they need to make important business buying decisions.

In addition to our feature on Clutch, The Manifest, a sister website of Clutch, has recognized us as one of the top digital marketing agencies in Canada. The Manifest is another B2B services research platform. We're always looking for more opportunities to grow our reputation in the agencies space, and appreciate having a presence on trusted reviews and directory sites.

To learn more about how we leverage the power of inbound marketing, and attract rather than push clients to your business, please read the detailed reviews in full on our Clutch profile! We appreciate this recognition, and look forward to staying at the forefront of an evolving and innovative industry!
TW Blog Sign-Up
Learn more about how to grow your business and improve your sales team process.