Seeing as the business world has become very e-commerce based in the past 10 years, inbound marketing is becoming an effective and constantly important aspect of marketing.
What is Inbound Marketing?
Inbound marketing helps promote products and services of a company or organization through blogs, podcasts, e-newsletters, videos, search engine optimization, and social media. However inbound marketing isn't about trying to fight for visitors attention, it's about drawing them in with natural marketing.
73% of people use Facebook for their business, making it easier for customers and visitors to get a glimpse of what they're all about without the constant push traditional methods would do.
On the other hand, 80% of people ignore Google's paid ads, further supporting the idea that people no longer want to be pushed towards something but find it for themselves.
Inbound marketing is also proven to create 3 times more leads than the usual marketing strategies do.
Inbound marketing is all about enticing strangers, bringing them to a website and making them into customers. So learning the tips and tricks of how to could be an easy New Year's resolution for all businesses.
Hubspot (inbound marketing software) believes the best way to entice customers to your business is to: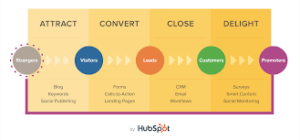 Attract - Convert - Close - Delight - are the actions and the items below (Blog, Keywords etc.) are the tools to help you do this.
Then don't forget you need to track how all these things are going. If you're having trouble with this, let Tangible Words know, and we can discuss with you software that can track it for you!
Stay Organized With A Free Inbound Marketing Checklist

With this free checklist, you will be given a new framework for campaigns that solves all of these common marketing problems.
You will learn how to develop an inbound marketing campaign that:
Uses integrated tools to connect everything
Works in any situation
Starts with the customer in mind