If you're not getting the attention you and your product deserve it's probably how you're marketing it. I don't mean how much you're spending on ads or how cutting edge your website is. I mean the language you're using to sell your product.
What do you do that's so great and why would I choose you over some other business? Do you know what your unique selling proposition (USP) is? You should because this is where your marketing begins. Your USP is what separates you from your competition and drives consumers to buy your product.
Look at Zenni Optical's simple ad. Get prescription glasses $6.95. Few say no to this amazing deal. Their USP? Buy from Zenni because you get prescription glasses cheap.



Make no mistake Zenni's uncovered a niche, and you can too. Even if you can't play the price game.
How do you figure out your niche market? Talk to a copywriter. With a simple conversation, an objective, trained content marketer can uncover your USP for you so you can find your niche.
Once you know the niche market you're targeting, you craft the words you'll use to sell. Consistent language with a simple message you can use on your website, in social media, and even print that'll increase your sales. Because your consumers will know exactly what you're offering them and why it's different, and better, than the others.
Check out how even Loblaw's can benefit from using a copywriter.
You can find your niche. Take ten minutes to talk to Alysha and get copywriters working for you.
Do you want to attract tourists to your Ontario region with unique and captivating content?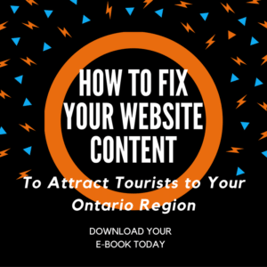 All the money you've spent on your website is wasted if you don't have the right content to help tourists choose your Ontario Region. Download "How To Fix Your Website Content To Attract Tourists to Your Ontario Region" and learn:
- How to use your website to build your relationship with your target audience.
- Understand What Your Website is Communicating When You're Not Around.
- Why Your Website Turns People Away, And What To Do About It…
- The 3 Reasons Investors will choose you.