Imagine a target of five concentric circles, representing buyers from the outside to the middle.
Hitting a Bull's Eye with Your Target Market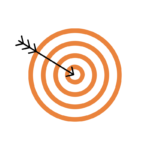 In archery, you need to thoughtfully and intentionally concentrate your energy on hitting the target. In business, you apply the same method to your target market. It is not enough to throw random content out into the interverse; you must identify and focus on the bull's eye in order to be successful. This is the awareness stage of inbound marketing.
People who have never heard of your brand

People who have heard of you, but are not interested and will never buy; they do not have a need for your product or service.

People who buy once, but never return.

People who buy a few times and then seem to forget about you.

The middle circle, or bull's eye, is the long term, repeat, delighted customers.

These are the customers you want to attract and maintain.
Traditional marketing methods, which focus on the salesperson pushing a product or service, are no longer relevant. Today's consumers are more independent and informed than ever before. They want more control over their buying journey.
What is the Buyer's Journey?

In the buyer's journey, buyer progresses from Awareness, through Consideration, to arrive at a Decision. Awareness, the first stage, means the buyer has "realized and expressed symptoms of a potential problem or opportunity," according to Hubspot. At this point, the buyer conducts general research. They search for information to more fully define their problem.
Why is the Awareness Stage of the Buyer's Journey Important?
At the Awareness Stage of inbound marketing, it is important to bring prospective buyers to your site by helping them to find information and conduct research. When you become a credible source of information, buyers will visit your site more often. They will consult your company first, and will be more likely to turn to you for a solution.
"Attracting prospects to your site and then helping them starts a relationship and nurtures it."
3 Ways to Get the Most Value from the Awareness Stage of Inbound Marketing
In order to appeal to your target market during the awareness stage, you cannot simply state all the product features and company qualities that you think are wonderful. What will make a lasting impression on the potential buyer, is when you clearly and concisely communicate what benefits they will receive. To do this, you must fully understand their needs. The best method for understanding customer needs is to create buyer personas. You need to know who you are talking to and what they want to talk about before you can start an informed discussion that both parties will find productive.
Listen to Your Target Market
Figure out which target market groups will most benefit from your product or service. Research, research, research. What do these groups have in common? What problems do they have? What do they need? What are they passionate about? What motivates them? Use these

3 tips to drive prospects to make the purchase

to help.

Check out posts your target market groups have made on other platforms. Read customer reviews on your competitor's sites. Review articles that are relevant to your target market's interests and your industry. Study the behaviours and motivations of each group, noting common characteristics. For example, one group may be the auto mechanics archery league on Thursday nights, where the local garages compete against each other and then hit the pub. A very different group, who also use the archery facilities, is the Saturday morning class for 6 to 10 year olds. Create a

marketing persona

for each group in your target market.

Understand Marketing Personas' Needs
What are the needs of each marketing persona? Make sure you understand the difference between features and benefits. The question prospective buyers want answered is, What's In It For Me? (WII.FM) Communicate to each target persona how these benefits will meet their needs. This is the most effective way to reach your target audience."Define what shapes your audience's decisions and let them know how you can help them get what they want."
Commit to Providing Quality Solutions to Meet the Needs of Target Personas
Only when you have completed all of this research, can you begin creating content for your

website

and

social

media

sites. By conducting the research before creating the content, you can be sure that your content offers meet the informational and emotional needs of your target market.

Prospective buyers arrive at your website with an expectation that they will get information on demand. You can attract the audience with content about how to improve their aim, 7 tips for hitting more bull's eyes, or the best bow for beginners. Your content provides reliable information.They want answers to their questions on their schedule, not yours. They want to be able to get a price on a new bow at 3am or fill in the rental form for your archery facilities, during their lunch hour, without leaving the office. Your content will provide a large part of those answers and will keep them engaged with your site long enough to contact you further.You will build a relationship based on trust and credibility. When you increase your number of long term, repeat, delighted customers, you hit your own bull's eye.