Canada-Ontario Job Grant - Get Training for Your Employees
February 28, 2017 | 2 minute read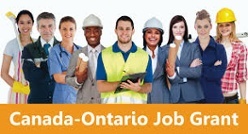 Did you know you could be eligible for the Canada-Ontario job grant to provide training for your employees?
Here are a few key points on who is eligible for the Canada-Ontario Job Grant:
Individual private and not-for-profit sector employers
be licensed to operate in Ontario
be applying for training that is delivered in Ontario and is related to a job that is also located in Ontario
Employees (who you want the training for) must be on payroll.
Available for employers with < 50 employees AND > 50 employees.
Up to $10,000 per employee is available. The Grant money goes fast! Contact us if you would like to speak with a grant specialist to confirm if you can apply.
Want more detailed information on the Grant?
Training can be customized to your needs but here's an example of training that has already been approved:
Understand Inbound Sales & Marketing - Develop consensus amongst staff on how best to reach the organization's revenue goals and the customer's goals. Establish what needs to be communicated on the website and in all future marketing materials to achieve your strategic objectives.
Smarketing: The Sales & Marketing Fast Track - Establish the process for the tools and elements required to be successful. Get started.
Implementation (Create Campaign 1) - Facilitate the ability to create the first campaign, and learn the system and tools to reliably, consistently, and successfully repeat the process.
Copywriting Course (Learn to Write Online) - You'll have a chance to learn and utilize best techniques for online writing.
Don't want to read all the fine print?

Contact Tangible Words

and we can get you in contact with a grant specialist to help you with your application!
TW Blog Sign-Up
Learn more about how to grow your business and improve your sales team process.