#CoolCompanies Stay Safe with CleanSmart Canada's All-Natural Disinfectant Spray
April 15, 2021 | 1 minute read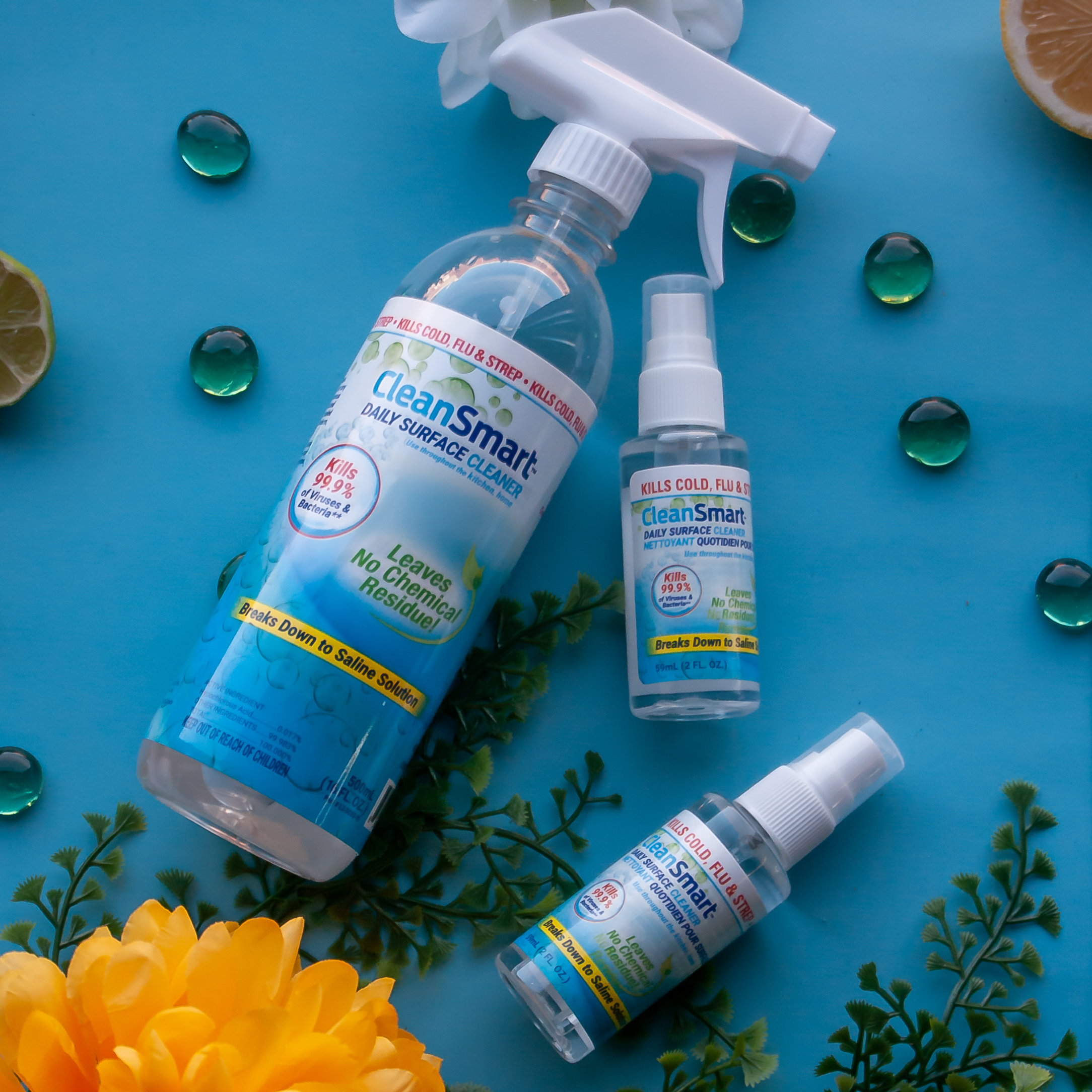 In the age of constantly wiping down surfaces to protect ourselves and our loved ones from Covid-19 and other bacteria, it can be a chore to find an everyday cleaner that gets the job done right. Most disinfectants include harmful chemicals, harsh fragrances, cause skin irritation, and are not safe to use around food.
Introducing CleanSmart Daily Surface Cleaner! Health Canada (interim measures) approved, CleanSmart provides an efficient and safe solution to your daily cleaning routine. This disinfectant requires no rinse and leaves no residue, just spray and walk away! Best of all, CleanSmart Canada's eco-friendly, natural formula kills 99% of bacteria and viruses with no harmful side effects.
Eco-Friendly Disinfectant: How does it work?
CleanSmart uses hypochlorous acid (HOCl) as an effective, no-harm alternative to common cleaning ingredients such as bleach or alcohol. Hypochlorous acid is the same chemical produced by the human body to fight infection, meaning CleanSmart is a natural product that is safe to use around kids, pets, and even food. In fact, CleanSmart doesn't even have a warning label!
How can you use CleanSmart Canada's Disinfectant Spray?
Whether you need to disinfect your home, business, car, or office space, the Daily Surface Cleaner is the perfect product for you. This family-friendly spray can be used on furniture, fabrics, and can easily disinfect baby toys. CleanSmart spray can even be used to disinfect pacifiers, with no wiping or rinsing necessary.
CleanSmart Canada's Daily Surface Cleaner is a food-safe disinfectant, making it easy to sanitize kitchen countertops, cutting boards, and dining areas. Use CleanSmart Canada's disinfectant to keep yourself and your family safe from Covid-19.
Where to Purchase CleanSmart Canada Products
Purchase CleanSmart Everyday Surface Cleaner online here, or check out the CleanSmart Canada website for more information.
TW Blog Sign-Up
Learn more about how to grow your business and improve your sales team process.