Good Website Homepage Review: MuckRack.com
October 20, 2015 | 6 minute read
How MuckRack.com Uses Copywriting Techniques For A Better User Experience
I like the Muck Rack homepage. Simple language and clean images make a good first online impression. The conversational language gives readers the impression they're not being manipulated—and they shouldn't be. Reputable businesses don't make promises they can't keep or hide their intentions in "marketing jargon". They tell the truth, well.
Plus the use of different elements that copywriters talk about, and practice, regularly—create a positive user experience. Let's look at 3 fundamental copywriting techniques in our good website homepage review that Muck Rack uses that should be a part of every homepage, no matter what you're selling.
Three Things The MuckRack.com Homepage Does Well To Engage Their Consumer Base
1. Identifies Target Audiences Immediately
When visiting your website, users need to recognize themselves right away and be given the opportunity to go straight to what they need. On Muck Rack you're either a Public Relations Pro or Marketer or a Journalist or Blogger.
Why is target audience identification important? Users don't want to/or have time to figure out what you're trying to say if it's not obvious. This is called the "creative burden". If you leave your users to find out for themselves how your product or service solves their problem, you could lose them, fast. They've already taken the time to Google the specific search terms (see Search Engine Optimization tips) and hit on your page; now the ball's in your hands. Show them how you can help right away and lead them to the information they're looking for to get what they want.





Muck Rack serves two distinct target audiences: PR Pros & Marketers and Journalists & Bloggers. Either you are a news writer or you're looking or one. Both of these audiences need different things but are connected by the same skill set. There's no question about what you're getting.
You have a product or service users want, that's your offer. An incentive, like a free e-course makes, them want to expand on your relationship now. A contact or sign up button lets them do it immediately. It's easy: you want, you get, you do.
On the Muck Ruck site both target audiences are given an offer, incentive and 2 calls to action (subscribe to their newsletter, and either find journalists or build your portfolio depending on which target audience you fit into). Nice easy options for both the noncommittal and the already-sold crowd.




You can see here how easy it is on the Muck Rack site. Here's what a user might be thinking "Huh, a quick way to find journalists who're interested in my message. You bet, I want that. What, I can find them right now!? Clicking now…" Done.
So, three sentences and two clicks later (one to select who you are and one to get what you want) and you're set. You can't ask for easier. But wait, there's more.
3. Features and Benefits and Testimonials a.k.a Proof You Can Do What You Advertise
Some users will need more convincing. This is where features and benefits can clarify for consumers what exactly they're getting for the service you're selling. For instance "We do business like this so you can get this; do this; excel at this."
Scrolling down the Muck Rack homepage, you'll find 5 points explaining their features (for both target audiences) and why they'll help you. Interesting fact: online readers are attracted to odd numbered lists, it's been proven, so just use them all the time.
And, just to make sure you're confident you're not getting duped, Muck Rack adds some credible testimonials (3 per page in fact, again odd numbers). Testimonials can describe what you do better than you can because it's your happy customer's doing the talking. Their messages will resonate with your potential clients - who are just like them.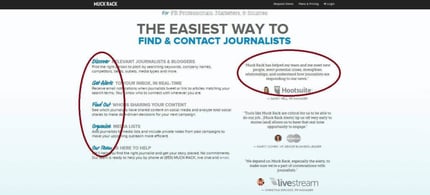 Muck Rack's clean layout, use of simple language to highlight Features and Benefits (on the left) plus relevant testimonials (on the right) help their users make decisions with confidence.
Bonus! Simple, Effective Headlines Catch Your Audience's Attention
Well worded headlines work not only for search engine optimization, they also make it easier for the user to navigate your site. Headlines break up the body text to help draw users to where they need to be looking on the page to get the information they want. And, great words can hook the user right away (hint: professional copywriters craft your messages into headlines that attract attention).



Muck Rack knows who they're dealing with. Notice the enticing headline for the Muck rack writer audience "You're joining an elite group." Who doesn't want to be part of the elite group? Sign me up. The headline tells users they'll get what they want.
See all these elements live, check out muckrack.com.
Want your homepage to function just as well as Muck Rack's? Book a homepage rewrite so you're guaranteed to have a homepage that will reach your target audience, in only five business days.
How Could Your Website Get More Qualified Leads?
TW Blog Sign-Up
Learn more about how to grow your business and improve your sales team process.