Hire Content Writers and Lighten Your Marketing Team's Load
June 23, 2017 | 4 minute read
Your marketing department has a lot of responsibilities: strategy, market research, sales support, and communications just to name a few. It's normal that some of those responsibilities will fall through the cracks. But it doesn't have to be. You can support your staff and help with ongoing content demands when you hire content writers.
Your marketing staff have many tasks they need to fulfill in a day. Content writers have one: to be experts in writing content for online readers.
Why Should You Hire Content Writers?
Maybe your marketing team just doesn't have the time. Or they don't know where to start. Maybe the amount of work is unmanageable. Could be your team is held up by administrative red tape. Paying for content writers might seem counter-intuitive when you already have a team responsible for content creation.
But when you hire content writers you support your marketing team with industry experts. You get an outside perspective (without having to pay them employee benefits).
Here Are Four Ways It's Worth Your Money to Hire Content Writers.
Content Writers Improve Websites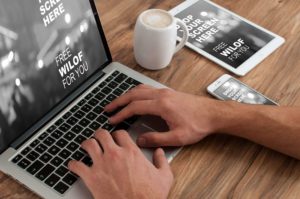 Website redevelopment is a frustrating but necessary task that many businesses put off. Content writers don't just write content. They plan, research, and strategize. They analyze your company, products, and website. And they provide an external perspective you and your team might miss because of your familiarity with the subject matter. The result is a new website that provides trackable returns on your investment in a content writer.
2. Content Writers Take Your Blog To The Next Level
Blogging adds value to your website but can get pushed aside for tasks that seem more important. Hiring content writers to consistently update your blog is an investment that pays you back. Content writers are experts in Search Engine Optimization (SEO). Meaning that when they update your blog posts with SEO keywords they're ensuring your content ranks higher among search engine results. You can pay AdWords annually to boost your search engine ranking. Or you could pay a content writer once to create blog content that continues to draw clients to your page for years to come.
3. Content Writers Create Strategic Social Media Platforms
Social media is a necessary tool to make connections with prospective clients. But it requires a monthly, weekly, daily (sometimes even hourly) commitment to stay in touch and relevant. Content writers create social media content strategy and guide your team on how your social media should be used. They know what platforms (Facebook, Instagram, Twitter, Pinterest, etc.) will be most effective for your business. And they know the best content to share and how often. (And remember how I told you content writers create blog posts? Those are perfect to share on social media to attract new followers and convert them into clients.)
4. Content Writers Won't Be Duplicated
Duplicate Content or identical content that appears in more than one place is an inevitable practice of marketers. Unfortunately, your SEO ranking can be affected by your use of duplicate content and this can make it difficult for prospects to find your website through an organic Google search. Perhaps someone has written a spotlight on your tourist region. Or you've written a guest blog and you want to share it on your website. When you hire content writers you get original content that will still get noticed by search engines without falling into the trap of duplicate content.
No matter the need to support your marketing team, paying for content writers is an investment in your team's piece of mind. Your marketing team's effectiveness is essential to your company's continued success. Content writers are truly worth their weight in gold.
Could Your Team Benefit From An External Perspective?
TW Blog Sign-Up
Learn more about how to grow your business and improve your sales team process.