The first question to answer is "what is content". Then, "how can content creation services help my business"? Your business depends on making your product or service visible to the world, and content is what gets you there. In this digital marketing era, content can come in many forms: Homepage text (your website is, after all, your business storefront), blog posts, webinars, infographics, videos, podcasts, ebooks, surveys, quizzes, and more.
No matter the form, content tells your potential customers that you have something they're looking for.
So, to answer the title question: "content creation" is the act of coming up with that all-important text-and-image information. But there's more to it than just writing engaging words and choosing appealing images; content creation services are also about strategically placing all that copy in front of the eyes of your potential clients…that is, your target market.
Copywriting Is A Strategic Content Creation Service That Drives Traffic To Your Website
When you have identified your target market, your business growth depends on attracting them to your website, and then providing relevant content that addresses the needs and desires of that market. This keeps them engaged with your product or service and makes them want to share it with others.
5 Ways Your Content Brings Customers To You:
Well-placed keywords and strategically worded copy attract readers to your site.

An enticing homepage

keeps them there.

The good content that readers see on your site educates them about your product without ever having to force a sales message on them.

Ongoing copywriting, website development and design ensure the site is easily navigable and meets the reader's needs.

Strategic calls to action (created by copywriters) further engage the reader, generating leads that eventually result in sales.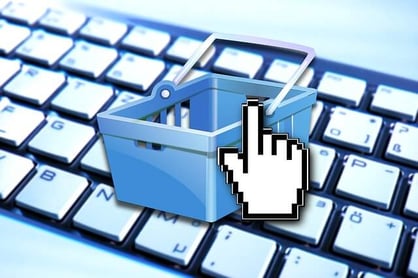 Here's 3 Ways Good Content (And Content Creation Services) Drives Traffic To Your Website
Blogging:

Maintaining an

active blog

allows you to prove that you're an expert in the product or service you offer. Even better, blogs are very shareable; when your readers share your content on social media, you become further established as an authority. This generates more traffic to your site. Companies that published 16 or

more blog posts

per month got 4.5 times the leads than companies that published 0-4 per month (Hubspot).

Email campaigns:

Emails

can reach a large market for very little cost. Target only those potential clients that you know are looking for your product or service – your target market or persona

– and use well-thought-out and well-written content.

Social Media:

Being active on a social media

that suits your product or service is an easy and necessary way to connect with potential clients, convert them into customers, and then stay connected with them. Copywriters use these platforms strategically, sharing unique, fresh, relevant content at the correct frequency.
Good Content And Good Strategy Puts Your Product Or Service In Front Of People
[xyz-ihs snippet="Found-Faster-CTA"]
You've probably figured out by now that content creation is a constant, ongoing task. There's always a need to write a new blog post, update your website, Tweet, and more. This can be overwhelming. You and your staff don't always have time to focus on content.
Good content creators (that is, good copywriters) can help. Their job is to be experts in content creation and strategy. Get this free infographic to help you use your website to market your business better.