Marketing Your Rural Business: Personal Touch and Connect Online
February 17, 2015 | 3 minute read
In the first article, 'Country Goes Viral: Marketing Your Rural Business', we discuss tools that can connect with your customers online. In this article we will look at understanding your customers and how they like to connect with your business to insure your success as a rural business owner.
Know your customers and how they connect with your rural business.
Knowing your target audience makes writing your sales content easier and more effective. Try to reach your customers using the methods they prefer, be it social media, your website or printed flyers and brochures.
"But remember, all these customer engagement options can be rendered completely useless quickly if you alienate, confuse or misdirect in your content. To avoid these pitfalls define your message then present it clearly, consistently and concisely regardless of the media you are using."
An E-newsletter Well Planned Can Be Exactly How Your Customers Want to Hear From You.
Electronic newsletters let you link the information to more detailed copy elsewhere online, like your blog or social media pages to keep your audience engaged and better build your brand. Informative content sent regularly creates a following for your rural business. Loyal readers will then share your e-newsletter thus build your audience. This is also a great way for your customers to get information or tips without having to talk to you directly which is important when they aren't ready to buy.
Contact management tools, such as MailChimp and Constant Contact, let you track who is opening your e-news and what they're looking at. Use an editorial calendar to plan your e-news content to easily keep it current.
In Canada, be aware of Anti-Spam legislation and ensure you comply. Getting consent to email newsletters is not a barrier it ensures you're reaching a customer base who wants your product or service and not wasting time on those who don't.
Keep the Human Factor in Your Sales Plan.
Face to face meetings with your customers is a good idea even as a rural business. Plan to meet at least once during your relationship and try to see them when they ask to see you in person. Complement a face to face meeting with a dynamic presentation using a web based software, like Prezi. Prezi allows you to easily create and share persuasive multimedia visuals and content to highlight your rural business without the paying for costly software or dealing with finicky presentation tools.
When travel is not an option, there are ways to connect from anywhere. A webinar is an online information session or meeting that you can participate in or host from your computer, tablet or smart phone. Products like Webex offer a free basic service to help you see your clients and present visuals, share documents and answer questions in real time at your customer's and your convenience. This is a fantastic way to help with marketing your rural business.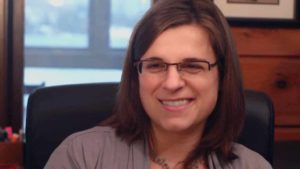 If you are interested in attending one of Tangible Word's webinar series or perhaps you are looking to run a Content Marketing Workshop in your office, please contact Alysha at anytime (1-855-287-3311).
Or take a look at why Alysha Dominico, CEO and Founder of Tangible Words 'I Left the City' to go rural.

How To Plan Your Email Marketing Campaigns & Generate Qualified Leads
Email marketing is still an effective way to reach interested buyers. You can keep your emails out of your recipients' trash folder when you pay attention to four essential components of successful email campaigns.
Find out what word you need in your email subject line to guarantee a higher open rate, plus:
What B2B marketers use most to generate more sales,
How your email campaign increases your sales leads,
Who you should be sending your emails to regularly.
TW Blog Sign-Up
Learn more about how to grow your business and improve your sales team process.