On Thursday September 14th at 11:30am, Alysha Dominico, Co-Founder of Tangible Words Ltd. will present "Help Local Businesses Thrive & Attract New Investors to Your Community" at the Ontario East Municipal Conference in Kingston, Ontario.
Attention Economic Developers!
Historical sales tactics no longer bring the same leads your target sectors once counted on. From Canadian manufacturers to lone eagles – it's no different: the sales world has changed. Find out a powerful way to use Inbound Sales and Online Marketing to impact business revenue goals.
You may not realize, but economic developers give companies hope. Learn what's possible: from case stories to best business practices - you'll leave knowing how to better counsel local companies and help drive their success. Now you'll know how to help retained businesses feel more supported and better able to flourish in your community.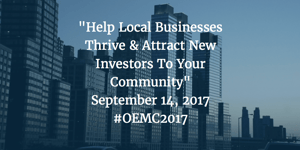 Bonus: by understanding the best practices world of Inbound you'll know how to also lead your community to come out on top to attract new investors.
What You Will Learn:
Best practices teach you how to support retained businesses. Understand the online customer: how they buy, how to find them, and how long it takes so you can help your local businesses before they're desperate.

Case Studies to inspire your retained businesses that it's possible to increase sales and tie ROIs to online marketing.

What's changed in the 2017 online marketing world and how companies can react in a measured, economical way for maximum impact.

What kind of infrastructure best helps marketing and sales teams know exactly how to attract attention, start conversations and close customers.
Looking forward to seeing you there. If you can't attend, tweet us @tangiblewords to get more details on the presentation or receive a free website assessment below!