Review of a Good Website: Quicken
April 13, 2012 | 3 minute read
As a website copywriter in Toronto, Canada and Melbourne, Australia, we go through hundreds of websites a month.
Content writing is essential for a business to build rapport with clients online.
One question businesses always ask us during our business workshops and when writing for them, is what does a good website look like using our knowledge of copywriting techniques? So we have decided to start reviewing good websites in the hopes it will help other businesses improve their website content.
Is your website content grabbing all the business you can?
What Online content must appear on your company website?
Review #1: Quicken (http://quicken.intuit.ca)
1) Headlines - just like a newspaper, when people first look at a website, they skim the headlines. This means that it is essential the headlines speak to your readers but also inform them about your business.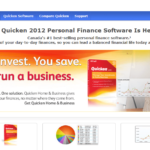 Quicken does a great job with their rolling headlines (ex. You invest, You save, You run a business). Not only are they short and to the point, but they speak directly to the type of people who would be interested in their products.




2) WIIFM? - you have likely heard of the saying "What's in it for me?". Readers online go to your website wondering what they are going to get out of using your company. No longer is it about '20 years in the industry', 'the degrees each team member has', but more about what your company is going to do to make the client happier, or make life easier for them.
Quicken again writes with their clients in mind. The word 'you' is used rather than 'us', 'we', etc.
Example: 'In Quicken 2012, you'll find easy-to-use tools that help you manage your finances more efficiently... and effectively'
3) Interlinking: How do you want your readers to go through your site? Help guide them by using interlinks within the copy as well as through your buttons. Make it as easy as possible for them so they stay on your site longer (this also helps your Search Engine ranking as they will see you as an expert if people stay on your site for a good period of time).
Quicken: uses both buttons at the top of the page, but also links on their widgets AND within their copy. This is essential to give the reader the easiest methods to find what they are looking for.
4) Calls to Action and Offers: It's one thing to get someone on your website, but then what? What do you actually want them to do? Contact you? Buy from you? Your online content must make it easy for them to do this. Give them a place to contact you not only through a button to click on, but links within your copy. Also take this opportunity to entice your readers with an offer or two that they can't pass up!
Quicken: they do a great job at making it easy for clients. Not only can they use the 'Contact us' button but they have Offers that can be downloaded right off the site and Comparisons to show you the deals.
Quicken Cash Manager 2012
$49.99



5) Proof: Words are important but what really solidifies a claim is proof. How often have you heard, 'We are the number one company for ____ in all of Canada'. So many companies claim the same things, but what makes them different is the proof they provide. This can be through testimonials, case stories, statistics of improvement, etc.
Quicken: on the homepage they claim 'Canada's #1 best-selling personal finance software' and for many companies they would stop there. However Quicken didn't, adding:
| | |
| --- | --- |
| 1 | Based on aggregate retail software sales for desktop personal finance tax software, as sourced by NPD from June 2009 through June 2010. |
Overall: it is clear that Quicken has used a website copywriter to write their online content. Of course they are a larger company and invest large amounts for their advertising and marketing however spending money in the right places can make the difference between a good company and a great one.
So what do you think makes a good website?
TW Blog Sign-Up
Learn more about how to grow your business and improve your sales team process.