Stevie Awards 2019 - Bronze for Women-Run Workplace of the Year
December 24, 2019 | 3 minute read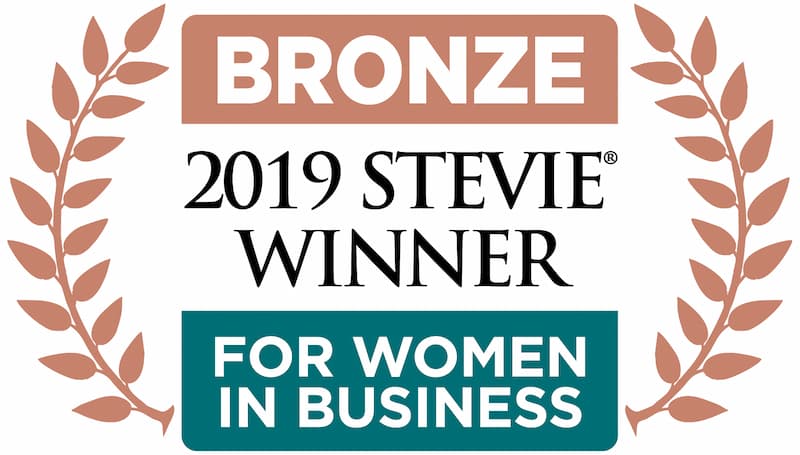 Tangible Words has been named the winner of a Bronze Stevie® Award in the Women-Run Workplace of the Year category in the 16th annual Stevie Awards for Women in Business.The Stevie Awards for Women in Business honour women executives, entrepreneurs, employees, and the companies they run– worldwide. The Stevie Awards have been hailed as the world's premier business awards.
More than 1,500 entries are submitted every year for consideration in more than 90 categories, including Executive of the Year, Entrepreneur of the Year, Company of the Year, Startup of the Year, Women Helping Women, and Women Run Workplace of the Year.
Tangible Words Ltd.: Having It All in the Virtual Workplace
"Time is sacred to all of us." –Alysha Dominico
When Vicky Marrack and Alysha Dominico decided to set up their firm, Tangible Words, they did not have a model to follow, but they wanted to make sure their team could have it all: a rewarding, well-paying career, and time to focus on hobbies, family, and health.
They wanted to support women by giving team members the flexibility to work from wherever they were, but to fit work in around the rest of their lives, while still making a good living and building a great career.
Vicky and Alysha blazed the way and established a distributed office with team members all across multiple time zones with diverse knowledge and assets. By developing a robust training program, and taking full advantage of the collaborative software, Asana, they've developed a tight-knit team.
"Creative and innovating thinking at work to promote productivity among the individual employees. Great work being done here." – Stevie Awards Judge
In the virtual space, Tangible Words' team members efficiently access assigned work, collaborate and communicate on tasks, view checklists and processes, and receive training.
They also have a community space that fosters fun, connection, and communication among the distributed team. They regularly celebrate successes of individual team members, and the whole team, and share funny stories and memes.
Vicky and Alysha have developed a successful company that empowers women to take charge of their careers while delivering top-notch service to Tangible Word's clients.
By trusting their team to structure their own lives and work hours, they've been able to deliver strong results for their clients. In 2019 they brought in over $135K net new revenue and over $450k influenced revenue for one of their clients. Another client closed $600k net new business in 6 months.
"Tangible Words' mission is incredibly inspiring with their endeavour in creating shorter sales cycles and bigger results. The team has proven to be a leader with innovative practices and a huge impact on its beneficiaries. Best of luck to the team!" –Stevie Awards Judge
While driving this growth for their clients, the women at Tangible Words have been accomplishing plenty in their personal lives as well.
Co-Founder & CFO Vicky Marrack volunteered 21 hours in one month at her sons' school, painting the schoolyard with educational games
Alysha wrote and edited three drafts of a new manuscript.
Ceilidhe Wynn, Project Lead and VP of Operations, has written her first novel and signed with a literary agent.
Kattie Thorndyke, Lead Copywriter, launched her podcast, The Otherwise Intelligent Woman, this year.
One of the Stevie Awards judges summed up the goal and mission of Tangible Words perfectly: "Tangible Words team members earn a living working in any location they want. They can choose when to focus on work, giving them the agility to better enjoy work because they enjoy their lives beyond work. That sounds like the definition of a good workplace."
About the Stevie Awards
Stevie Awards are conferred in eight programs: the Asia-Pacific Stevie Awards, the German Stevie Awards, The American Business Awards®, The International Business Awards®, the Stevie Awards for Great Employers, the Stevie Awards for Women in Business, the Stevie Awards for Sales & Customer Service, and the new Middle East Stevie Awards. Stevie Awards competitions receive more than 12,000 entries each year from organizations in more than 70 nations. Honouring organizations of all types and sizes and the people behind them, the Stevies recognize outstanding performances in the workplace worldwide. Learn more about the Stevie Awards at http://www.StevieAwards.com.
TW Blog Sign-Up
Learn more about how to grow your business and improve your sales team process.