Stevie Awards 2019 - Bronze Female Entrepreneur of the Year Award
December 19, 2019 | 3 minute read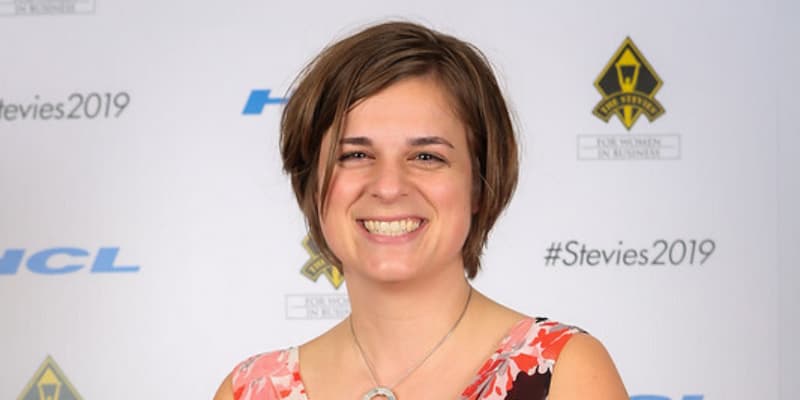 Alysha Dominico has been named the winner of a Bronze Stevie® Award in the Female Entrepreneur of the Year category in the 16th annual Stevie Awards for Women in Business.The Stevie Awards for Women in Business honour women executives, entrepreneurs, employees, and the companies they run – worldwide. The Stevie Awards have been hailed as the world's premier business awards.
More than 1,500 entries are submitted every year for consideration in more than 90 categories, including Executive of the Year, Entrepreneur of the Year, Company of the Year, Startup of the Year, Women Helping Women, and Women Run Workplace of the Year.
Alysha Dominico, Co-Founder, and Sales and Communications Specialist: A Visionary's Best Year
As a leader, one of Alysha's top strengths is identifying areas of weakness in her own business, implementing a plan to strengthen that weakness, and then scaling that solution to help her clients who may face similar challenges. This driven search for solutions pays off for the firm she co-founded, Tangible Words, and for her clients.
"An amazing woman inspiring others to be amazing too." –Stevie Awards Judge
With this proactive leadership strategy from Alysha, Tangible Words saw a 52% increase in revenue, won three awards, and received recognition from reputable publications in 2018/2019.
Further, Alysha translated what she learned this year into creating new revenue lines for Tangible Words and diversifying their marketing services.
One of Alysha's priorities is continuous learning. In 2018/2019 she implemented theory from three business books and completed three HubSpot Agency courses for high-performing agencies. Alysha immediately acted on her new knowledge and designed new scalable processes, project templates, checklists, and training sessions for Tangible Words.
The new systems helped improve sales and client-onboarding processes, and to revise inbound marketing operations. Alysha required Tangible Words team members to document every step, allowing them to help their clients transform their sales and onboarding processes and revise their own in-house operations.
"Excellent work standardizing business practices and tools." –Stevie Awards Judge
"Now everything is tracked and supported, where we used to have to chase leads, now they come to us through a comprehensive system that never lets an opportunity be forgotten." Jordan Tidey: Senior Consultant, MDB Insight.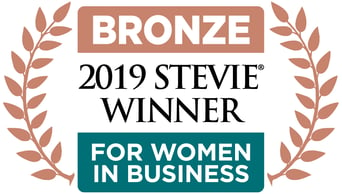 With Alysha's scalable systems in place, her team racked up results for the firm's clients during this past fiscal year. For one client, Tangible Words' rebuilt their website, transformed their sales process, and brought in $135K net new revenue and influenced over $450K in revenue with relevant industry-specific inbound content.
By working with Tangible Words, another client was able to open doors with key decision-makers. As a result, their sales team closed $600K net new business in 6 months.
"Great achievements by Alysha for Tangible Words." –Stevie Awards Judge
Tangible Words' subcontractors/employees can rely on Alysha to empower them, through information and training, to do their jobs well. Alysha also empowers them to live their lives well.
"She cares about others, knows who she is, and has found the intersection of those two things that make her an incredible leader, communicator, and problem solver," says Kattie Thorndyke, Lead Copywriter.
As a result of Alysha's promotion of work-life balance, Tangible Words helped foster remarkable achievements from team members in 2018/2019:
project Lead Ceilidhe Wynn wrote a novel and signed a contract with a literary agent
lead Copywriter Kattie Thorndyke launched her podcast, The Otherwise Intelligent Woman
Co-Founder & CFO Vicky Marrack volunteered 21 hours in one month at her sons' school, painting the schoolyard with educational games
Alysha wrote and edited three drafts of a new manuscript.
Tangible Words team members were accomplishing all of this while also working hard to make Tangible Words succeed.
Alysha's ongoing ability to identify weak points and strategize to strengthen them - learning everything she can along the way - has culminated in a year of significant growth for her company and its clients. In spite of this fast growth, Alysha has still maintained one of her highest priorities: keeping Tangible words a positive, well-balanced workplace. Her leadership and dedication shine through in the clear passions and accomplishments of her team.
"Alysha is a great innovator and a strategic business implementer. Her scaling business skills are highly efficient and practical." –Stevie Awards Judge
About the Stevie Awards
Stevie Awards are conferred in eight programs: the Asia-Pacific Stevie Awards, the German Stevie Awards, The American Business Awards®, The International Business Awards®, the Stevie Awards for Great Employers, the Stevie Awards for Women in Business, the Stevie Awards for Sales & Customer Service, and the new Middle East Stevie Awards. Stevie Awards competitions receive more than 12,000 entries each year from organizations in more than 70 nations. Honouring organizations of all types and sizes and the people behind them, the Stevies recognize outstanding performances in the workplace worldwide. Learn more about the Stevie Awards at http://www.StevieAwards.com.
TW Blog Sign-Up
Learn more about how to grow your business and improve your sales team process.