All's fair in love and economic development. In order to stand out from the pack, the role of marketing in economic development is incredibly crucial. Thanks to technology and the internet, there are many effective marketing options at your disposal.
Base Your Strategy Around This Simple, Five-Point Plan:
The role of marketing in economic development - specifically inbound marketing - is important because it focuses on showing investors what you have to offer and attracting them through your genuine appeal to their unique wants and needs.
1. Attract, Convert, Close, and Delight.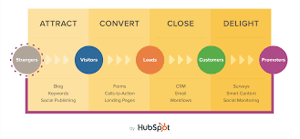 First, attract visitors with your content, then convert those visitors into customers. Close the deal with your customers and, finally, delight them so they return again, or recommend your business to others. This is the process of inbound marketing, an incredibly useful marketing technique for businesses in the online world.
2. Good Website Design Is Important, But Not As Important As Content
Content is what drives web traffic. Good websites answer investor questions and guide them towards the content they're looking for. Keep website design simple and inviting. A good website design should connect visitors to content.
3. Start a Business Blog To Reach Investors
Business blogs are relatively easy to set up and maintain, a must for any modern business with a good inbound marketing strategy, and one of the most effective marketing options for economic development organizations. But a blog needs to be updated in order to be successful: a study done by Hubspot in 2015 found businesses which published 16 or more blog posts a month got 4.5 more leads than businesses who published less often.

For this reason, it's important to create a content calendar to make sure you are maintaining a regular blog update schedule.
4. Join Social Media - It's Completely Necessary
The role of social media in modern marketing campaigns can't be overstated. In fact, not only should an economic development organizations be active on social media; it's increasingly becoming the case that an organization must be active on social media. Research suggests most people expect a business to be active on at least 3-4 social media platforms (and the number of people who thought that reached 95% percent when the question was asked of Millennials).
Facebook, Twitter, LinkedIn, and Instagram are all excellent places to start.
5. Start An Email List For More Inbound Marketing
A simple email newsletter is a great way of improving leads. Segmented email lists and personalized email lists will boost open rates even further. Plus, email newsletters clearly outperform social media marketing when it comes to eyes on content.
Effective Marketing Strategies Start With What's In It For Me, (WIIFM)
A good way of proving to site selectors, who are reluctant to invest, that your region has value is to know what they want before even making contact. How? Develop a customer persona for the type of site selectors and CEOs who've invested in your region before, and apply their wants and needs to your online content. Answer investor questions and provide solutions to develop positions of trust with potential clients, which will in turn result in more investment.

If you're meeting with investors in person, or via video chat, non-verbal communication can be just as important as verbal. Also, once your online content has attracted investors, you'll need a killer sales pitch.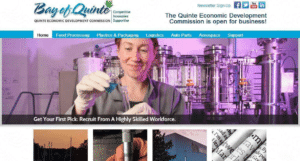 If you don't have the resources to follow-up on any of these steps, outsource what you don't have time to create. Content creation doesn't have to be all on you. You can use a team of content creators, as the Quinte Economic Development Commission (QEDC) did with Tangible Words.Take a look at QEDC's case story on how content creation services help align their website goals to their strategic communications goals. QEDC's story illustrates how to reach success understanding the role of marketing in economic development.
Reap The Rewards Of Inbound Marketing
If you base your economic development marketing strategy around the tenets of Attract, Convert, Close, and Delight, make content your highest priority. Use business blogs, email newsletters, and social media; learn what investors want. You might want to consider teaming up with a group of content creators to see your leads increase. If you follow these steps, the role of marketing in economic development will make its uses abundantly clear.
Want An Easy Reminder Of The Role Of Marketing In Economic Development?