Why Good Content Marketing Leads to Sales
August 20, 2015 | 3 minute read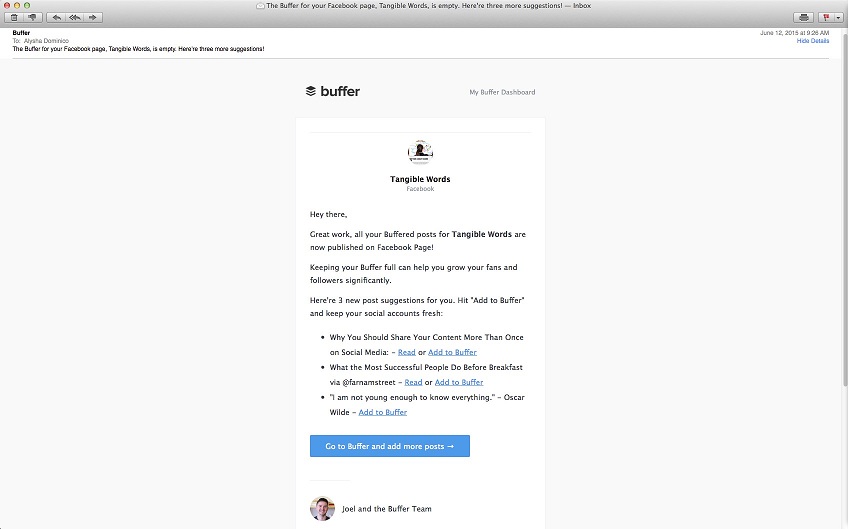 Is it STILL possible to make sales from email marketing?
It sure is - and this post will explain an awesome example of email marketing from Buffer.com to show you how you, too, can make sales from email marketing.
Good content marketing leads to sales. I offer as proof, an awesome company I use on a daily basis.
What is the first sales lesson for excellent content marketing? Because I am so in love with their content marketing, I tell everyone about them. So in effect, I've become a salesperson (unpaid) for this organisation. I'm writing a blog post about them. I tell my clients to use them. And all because they are really good at email marketing.
What Buffer.com Does Right in Content Marketing:
I'm a person with a Buffer account looking to share content that makes me look good to my followers. I use Buffer to send out shared content across multiple social media channels, and track its success.
Buffer works well for those needs, but they go one step further to serve me. Every time my account no longer has posts in it, Buffer sends me an email. But instead of an annoying email that only serves their needs, they serve their needs by first, meeting my needs, thereby creating a win-win sales scenario.
Let me explain. The email they send me is to notify me to use their service again. But instead of that being the focus of the email, they use the angle of offering me 3 posts I might want to share; and it's helpful to me because:
THEY OFFER EMBEDDED LINKS TO THEIR WEBSITE: they make it easier for me to get where I need to go next. The email offers a link to their site, and catches me in that "shoot I should do that today" mentality. The link is right there, so I always click and go do it. The link takes me right to my Buffer account, and lets me post the content they recommended with one click.
THEY OFFER HELPFUL IDEAS: they give me new interesting posts I should read. I think it's based on my interests and what I've posted before. I nearly always click at least two. I like being kept up to date about new posts, and they fulfill this need in my life with the content they share.
THEY'RE REMINDING ME OF SOMETHING IMPORTANT: they're alerting me to the fact that my Facebook or Twitter account needs some more posts in order to keep my frequency of posting momentum.
Want to Improve Your Email and Social Media Content Marketing?
Take a few minutes right now to improve your content marketing. Spend 3 minutes brainstorming how you can use these three principles in your own email marketing:
1) Usefulness - what "do today" task do your clients struggle to get done, and how can you offer them a chance to take care of it in your emails?
2) Urgency - What will your prospects miss out on if they don't do it now?
3) Ease-of-use - built in links. - what essential blog posts do your clients need to see? (It's ideal for your organisation to have a Content Editorial Calendar of blog posts that speak to these 'problems' your clients have - and it's GREAT for your SEO - let me tell you all about it through a phone call.
"Brainstorming your content marketing is a must. We've built relationships with people over time, and we use content marketing to stay in touch - so when they have that problem, they remember to use us - they already trust us and already know we're the experts. We rely on our content marketing to bring in business from Australia, while we're based in Canada. - Alysha Dominico"
Two Objections I Know You'll Have After Reading About Buffer and Email Marketing:
But, Buffer is a Software company - it's so much easier for them than it is for me, as a service company.
But Buffer is able to offer their service for free allowing more people to risk-free test drive them. I'm a service company - I can't offer that.
How To Plan Your Email Marketing Campaigns & Generate Qualified Leads
Email marketing is still an effective way to reach interested buyers. You can keep your emails out of your recipients' trash folder when you pay attention to four essential components of successful email campaigns.
TW Blog Sign-Up
Learn more about how to grow your business and improve your sales team process.