Why Your Food & Beverage Company Website Needs Compelling Content
January 24, 2019 | 3 minute read
You know your food and beverage product is a game changer but does your target audience? What's the best way of reaching them?
Broadcast more than just the features and benefits of your food and beverage product with a solid content creation strategy. If content creation is new to you; no worries. Consider how to set up a successful content marketing strategy first. Learn the fundamentals like best practices and why you need a persona to appeal to your target audience and then find out where that audience is online.
Say you sell bottled water that's packaged in a compostable plastic. At a minimum, your content strategy should tell your target audience that your product has a minimal effect on the environment and can show all the other space it saves in the landfill site. But ideally, your content strategy will attempt to connect with your users well before they are thinking about purchasing some water in environmentally safe packaging. Let's get more specific with some important essentials for a successful content creation strategy.
5 Must-Have Elements of a Superior Content Strategy for Your Food and Beverage Company
1. Have goals
Maybe you need increased awareness of a new menu or to sell a certain amount of units of your new sports drink in a certain amount of time. Consider your goals first, then have a measurable way you can track the progress of reaching them. Some goals you might start out with are the types of people you are hoping will engage with your content, and how much closer to making a purchase your content can move them.
2. Know your target audience
Spending time on people who are interested in your company is time and money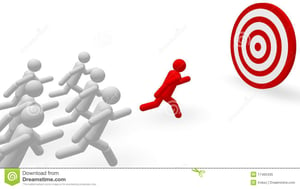 well saved. Gather common traits of you target audience in areas like age, income, personality, goals and motivations and use this to build a persona. Don't forget to focus on their objections to using your product - including change and accessibility of your product, as well as a day in their life. Users are more likely to make change and buy a new product on the market if it fits into their daily habits. Your content can remove barriers for your target audience - and it should. Then build your content that appeals to what this persona needs and use a platform they can be easily found on.
3. Get people to your website
Build a presence, trust and relationships on the platforms you post your content on and then convert that into sales by directing everyone to your website. Trust is only earned by the quality of your content and the value your offer to your user - beyond what you are trying to sell them. So give quality ideas and help and information on products that help them do their job or live their life better somehow away for free. Once that trust is built, initial contact with them is less of a disturbance because they have seen and liked what you have to offer.
4. Give Visuals
Use social media platforms like Instagram and Facebook where visuals like photos and videos go a long way. When you post a new recipe with a how to video alongside - the information is easy to absorb and easy for your target audience to share. Social media is fast and easy because the graphics do all the explaining without the associated time-consuming reading. Pro tip: don't forget to brand the content with your logo.
5. Establish Roles
Know who is doing what on your content team. Consider who is going to write blogs, and who will plan the editorial calendar. Maybe you need a photographer built into the process or a copyeditor. Who is going to engage and respond to comments on your site and different channels? All of these roles take time an have to be built into your process - if you forget these steps it's a barrier to publication and your content project will die a slow painful death of "I'm too busy right now" and "oh I forgot about that!"
Lastly knowing all these roles before executing a content strategy for your food and beverage company will save you time and confusion down the road. If it's all too much for your company at the moment, contemplate outsourcing to an inbound marketing agency like Tangible Words.
Now that you know the necessities of a good content creation strategy for your food and beverage company it's time to plan and execute.
Start A Winning Business Blog Today
Check out the free E-book on the secrets to blogging success for your food and beverage company. It will show you how to make your blog a seamless part of your current marketing strategy.
TW Blog Sign-Up
Learn more about how to grow your business and improve your sales team process.