Writing online content consistently is one website copywriting technique you should pay attention to. Many small and medium businesses are now using a business blog to add this content. However how do you make sure it is being done?
An Editorial Calendar for Your Business Blog is Essential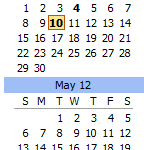 We have just been working on continuing our editorial calendar and it occurred to me the importance of this activity for all businesses.
Many of us when starting a blog, have a few great articles in mind, but after they have been published, what next?
To build an effective blog, you should always start with a content plan and then an editorial calendar. Not only do you not want to run out of things to say, but you also want to think in advance, how you want your readers to go through your content, and what type of content and frequency they would be interested in.
Categories should be planned for your business blog
When planning when to write your blog articles, think about how you are going to categorize them. Categories is like filing. You want to make it as easy as possible for your readers to find your articles and more importantly, articles they are interested in.
3-Steps to Planning Your Editorial Calendar
1) After completing your content plan, decide on what categories to file each blog article into.
2) Consider the frequency of your blog articles. Do you want one blog article a week? a month? 5 per week? (Keep in mind that in order to make a significant impact on search engines, consider publishing a minimum of 4/month but more effective 20/month).
3) Choose specific dates or days of the week for your blog articles to be published. Also ask yourself, do you want similar topics being published in row, or scattered throughout the month?
Other ideas and tips on business blogging: