Cost effective communications support for non-profit organizations is vital for attracting donations and support. Because non-profit communications departments are often the least funded - and non-marketing staff have been tasked with the communications role - keeping up with rapidly changing marketing trends can be overwhelming. And, even formally trained communications staff can have difficulty convincing decision makers to spend money on communications (a budget that's often cut first when money is tight).
However, when your budget is shrinking and your staff are over-extended you can still nurture community relations.
You can reap the benefits of a team of writers without committing to long term staff.
5 Ways Communications Support For Non-Profit Organizations Helps Your Cause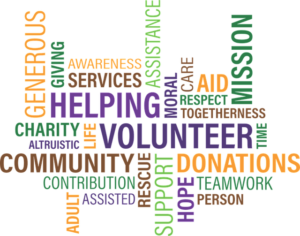 Firstly, your non-profit organization needs to be seen and heard across a variety of media. And, you've got to move towards reaching your audiences on their terms using their favourite forms of communication. Therefore, reaching your target audience means changing some habits completely and enhancing others. Here's how hiring communications support for non-profit organizations can help you do that:
1. Transition from Print Media to Online Digital
Potential donors are spending more time online. To connect with them and earn their support you need to be online too. A writing team can ensure your website is mobile friendly and help you create a communication plan to increase your online presence (keeping relevant information from your print publications).
2. Create Social Media Strategy & Content Bank
Use your time more efficiently to create fresh content. A writing team will help you set SMART goals, create and share communications. Trained writers also help you accumulate a surplus of readily available content to boost your website ranking and keep your social media current.
3. Use Content To Broaden Exposure
Use multiple forms of content across multiple platforms. A writing team can ensure comprehensive exposure to current contacts using the best content for each platform. Plus, they'll show you how to share your communications with new audiences.
4. Build Long Term Relationships
Establish relationships with potential donors. To create trust and credibility let supporters get to know your organization and what you're passionate about. As an incentive, offer helpful downloads, like an infographic. For even more exposure, offer opportunities to share stories related to your cause.
5. Maximize Communications Impact & Minimize Investment
Get a better return on investment by using one story in several forms and share it across multiple mediums for different audiences. To further increase the benefits from a single piece of content, re-purpose it after making improvements and updates.
With a bit of help, all of these tasks are achievable within your existing organization. You can hire a team of writers to ease staff workload and build supporter confidence through your online content. Most importantly you don't need a huge budget to make a significant impact on your communications program.
Free Industry Relevant Marketing Advice To Help Your Non-Profit Marketing Team

Learn ways you can increase your sales online. Receive industry relevant ideas and advice about online sales, improving your website, and other content marketing techniques.

References
https://blog.hubspot.com/marketing/repurpose-your-nonprofits-content
https://blog.hubspot.com/marketing/challenges-facing-nonprofit-marketers-in-2016