Company Growth in COVID-19: What can Sales Reps Do?
March 27, 2020 | 4 minute read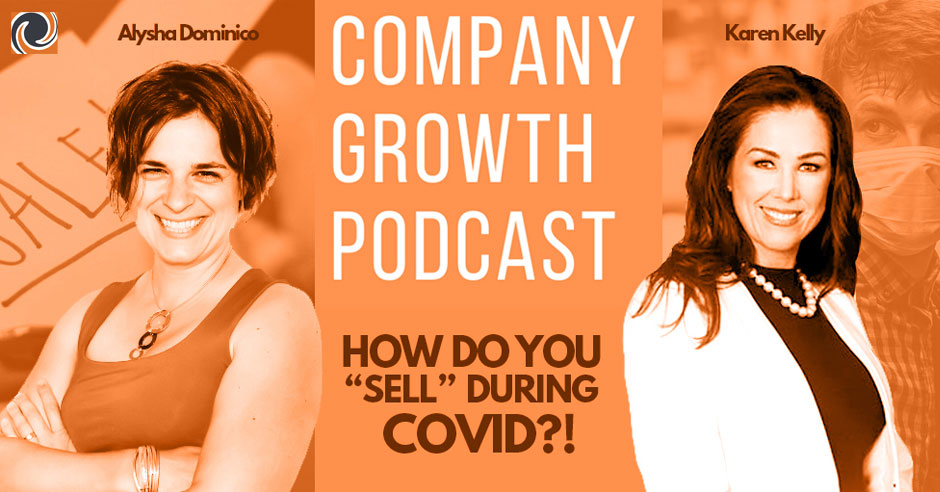 Many years ago, and when I was not a mother, I felt uncomfortable when "kids" came up in the workplace. It felt awkward - and intrusive. As a parent, I'm less uncomfortable, although I still prefer to keep my sons' heads out of webcam meetings and their noises out of phone calls.
As fellow mother and entrepreneur Sales Trainer, Karen Kelly, of K2 Performance Consulting, reminded me in this Podcast - remember that TV interview with the Dad's kids come crashing into his study?
Wow. In the wake of COVID-19, how things have suddenly changed; sure, most of us can adjust to WFH (Work From Home) easily enough - but man, KAH (Kids At Home!) means now you're doing ALL the jobs and ALL the roles - just ALL THE THINGS - all the time.
Company Growth in COVID-19 means we're all just trying to get through the day and do right by our clients. It means you show up, as Karen says in a baseball cap. It means, yes, the kids are interrupting our phone calls.
But here's the part I choose to focus on.
With these COVID-19 growing pains - there is a silver lining.
The part that I've always liked about working in the B2B sales world is still there for you to reach out and wrap your arms around. It's the turning clients into friends part; it's the having a laugh on a sales call with a "gatekeeper". It's the Human to Human connection - what sales SHOULD be in 2020 anyway.

So as Karen advises in this Season 1, Episode 1 of the Company Growth Podcast, "Company Growth in COVID-19: What can Sales Reps do?" this is exactly the time to be human and to lean into that "humanness", that vulnerability we're all feeling. Celebrate that, ask for help, talk about the challenges.
This is the time to build and strengthen business relationships and to connect on a deeper, longer-lasting, more meaningful level than ever before. We'll naturally be closing Deals soon again.

Listen to the "Company Growth in COVID-19: What can Sales Reps do?" Podcast here.

After the Podcast: Further Food For Thought
Here are some further discussion and guidance on what you and your team can do to stay focused on company growth during COVID-19:
1) Mindset work for sales teams during COVID-19:
Acknowledge and validate emotions of fear, anxiety and overwhelm with no judgement. Be mindful of the limiting beliefs that attach to emotions. It is difficult juggling working from home (with kids); the end of social distancing unknown and financial uncertainty. It's easy to fall in to a negative mindset and a feeling of unworthiness. Acknowledge, but don't succumb. In order to show up for our family, friends and company we need to do our own emotional work first.
2) Don't stop marketing and sales messages during COVID-19. Instead, lead with genuine empathy and modify your messages:
For those verticals who are suffering heavily now, nurture those relationships but tread lightly. Connect with heart , focus on others and their well being; avoid all product related discussions.
Re-evaluate your messages and strategy as a group. Now more than ever, make sure marketing teams are working closely with Sales to share - and generate new - ideas. Look at your Ideal customer profile (ICP), has that changed? How does engage remotely vs in person shift your processes?
Train your sales reps: they need to know how to sell H2H, not B2B. Learn more on the Company Growth Podcast S1 E1

3) Connect with Team to Innovate during COVID-19:
Drive accountability and ownership from the entire group. The collective effort may produce innovative and creative ideas you never imagined. As a Leader, lean in to your vulnerability, and ask the team for help. Nobody knows exactly what we are doing, we are all treading uncharted waters.
Above all, as long as you are creating human connections and genuinely caring you will be adding value and strengthening your company for the kind of growth that helps you hit your goals, despite the rapid need for change to how we communicate and connect during COVID-19.
To browse more episodes by topic, visit the Company Growth Podcast webpage.
Ready to Grow? Apply for a Spot in Our Free Sales Growth Program.
TW Blog Sign-Up
Learn more about how to grow your business and improve your sales team process.