Constant Contact and MailChimp are two of the most widely used email marketing platforms. They're popular because they're both accessible and user friendly. More importantly, both take the mystery out of creating and managing your email marketing campaigns. But should you go with Constant Contact or Mailchimp?
From a content planning perspective, email marketing software that's easy to use makes committing to planning your content easier. Because you're not stuck on trying to figure out technicalities of getting the message out, you can concentrate on your message. This is especially important if you're short on tech savvy staff.
Three Considerations For Choosing Constant Contact or MailChimp
Ask yourself these three question before you choose your email marketing software:
Can I design what I want within my skill level?

How much will it cost to attract and keep my customers?

Will I get the customer support I need?
Here's some quick comparisons that'll help you pick the right one for your business.
1. Designing Your Email with Constant Contact or Mailchimp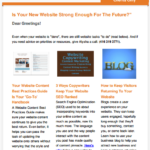 Constant Contact provides a wide variety of email templates (even categorized by industry and style) plus customization options for more experienced designers.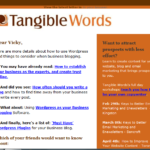 MailChimp templates are easy to use and mobile friendly. You can choose a design you love and look like you really know what you're doing with little effort.
Because both offer WYSWYG layout editors, and image editing and storage, so the choice here really comes down to which platform you like to use better.

To maximize the features of either platform, know the content you need before you design.
2. Paying For Your Service with Constant Contact or Mailchimp
Both Constant Contact and MailChimp offer comparable pricing that you can manage based on your subscriber numbers and frequency of your email campaigns, however those on a tight budget should know:
Constant Contact only offers a 60 day free trial for 100 subscribers and a limited email numbers,

MailChimp offers a

Forever Free

option that includes 500subscribers and 12,000 emails for free each month.
But, each offers flexible plans that are customizable to meet your email marketing use. Both have plans that'll let you pay for more service during busy times and cut back when you don't need to connect as frequently.
Choosing well based on price is dependent on you knowing your audience. When you plan your communication to meet your seasonal or sales cycle goals helps you get the most for your money.
3. Getting Technical Support With Constant Contact or Mailchimp
Whether you're new to email marketing or not, you're going to need some help at one time or another. I like to get someone on the phone.
Constant Contact offers phone support Monday through Friday with extended training options like webinars and video tutorials. Email is always an option.
You might prefer to find the documentation that lets you figure it out on your own.
MailChimp offers

Knowledge Base

self-serve access to help forums and documentation on its free plan. (Though an upgrade to paid subscriptions gets you live chats and email support.)
It's good to know that both Constant Contact and MailChimp continue to update their features, functions and integrations to keep up with technical and customer demands. You can add customized options like calls to action and contact forms plus integrate your emails with your social media activity.
Still not sure? Try them both out (lots of businesses do).
Email marketing, like any online content, must be written for your consumers. Find out what happens when you hire a copywriter to maximize the money you're investing in email marketing.
Looking for a more detailed comparison of Constant Contact and MailChimp? Read Capterra's Katie Hollar article MailChimp vs Constant Contact: Which Email Marketing Software Reigns Supreme for Small Businesses?
How To Plan Your Email Marketing Campaigns & Generate Qualified Leads
Email marketing is still an effective way to reach interested buyers. You can keep your emails out of your recipients' trash folder when you pay attention to four essential components of successful email campaigns.
Find out what word you need in your email subject line to guarantee a higher open rate, plus:
What B2B marketers use most to generate more sales,

How your email campaign increases your sales leads,