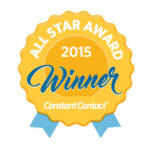 Tangible Words, that helps clients sell more online by getting them sales-ready and by being their marketing and sales allies, has been named a 2015 All Star Award winner by Constant Contact®, Inc., the trusted marketing advisor to hundreds of thousands of small organizations worldwide. The annual award recognizes the most successful 10% of Constant Contact's customer base, based on their significant achievements leveraging online marketing tools to engage their customer base and drive results for their organization.
Tangible Words Ltd Recognized for online marketing achievements using tools to drive success
We're happy to be recognized by Constant Contact for achieving strong marketing results and engaging with our customers. Criteria used to select this year's All Stars included the following:
Level of engagement with email campaigns
Open, bounce, and click-through rates
Use of social sharing features
Use of mailing list sign-up tools
Use of reporting tools
Email marketing is a fantastic way to foster trust and nurture relationships online. This can be achieved with Tangible Words' Content Partnership. On all content partnerships, you'll be assigned a Content Marketing Project Manager who works to your team's expectations—and your deadlines. We understand that you're 'To Do' list is likely full. Let an extra set of hands make a difference in your company's revenue. Contact Alysha today to discuss your needs.
Constant Contact and the Constant Contact Logo are registered trademarks of Constant Contact, Inc. All Constant Contact product names and other brand names mentioned herein are trademarks or registered trademarks of Constant Contact, Inc. All other company and product names may be trademarks or service marks of their respective owners.
How To Plan Your Email Marketing Campaigns & Generate Qualified Leads
Email marketing is still an effective way to reach interested buyers. You can keep your emails out of your recipients' trash folder when you pay attention to four essential components of successful email campaigns.