It might be difficult to admit but content writers can support your marketing department when they need it most. While your marketing team might see needing help as a sign of weakness; it's not.
Providing content help supports and re-energizes your sales and marketing team so they can focus on what's really important: reaching more customers.
3 Ways Content Writers Support Your Marketing Department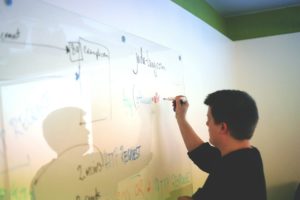 Marketing teams get bogged down with the ongoing content demand, taking away their focus and momentum. Tasks like redoing and improving your website, updating your blog, keeping in touch on social media, and eliminating duplicate content on your website take time away from reaching more customers. These tasks get put off because you simply don't know where to start. The longer you put them off the bigger burden they become. But you can ease that burden. Content writers support your marketing department by:
Planning Ahead:

content experts can set

attainable goals

for your marketing department. They implement a plan for achieving those goals. This provides your employees with the focus they need to move forward.

Provide Perspective: content writers

provide outside perspective; doing blind spot checks to see what's missing from your

content marketing strategy

.

Project Management:

Finally, a Content Expert can manage the goals you've put in place. They can create and write the content for you. This ensures your staff can focus on their main goal of reaching more customers.
Tasks like improving your website, blog updates, and social media get overwhelming for your marketing team if you put them off. Consider how a pool of content writers can support your team.
How Could Your Website Get More Qualified Leads?