You are not alone. 94% of B2B content marketers feel that the effectiveness of their organization's content marketing strategy is sub-optimal, according to CMI's 2016 industry survey. 50% of B2C marketers have a Content Marketing strategy that is not documented, as reported by 2015 B2C Content Marketing Trends – North America.
Too often, a content marketing strategy is not a strategy at all but "a way of sounding smart or leader-like and used to avoid necessary choices,"
Frank Cespedes in the Harvard Business Review
Why Is My Content Marketing Strategy Not Working?
Your strategy may be:
Difficult to define

Hard to measure

Impossible to attain

Tough to track

Irrelevant to the rest of the organization and its overall mission
How to Turn Your Content Marketing Strategy Around
Stop fo
cusing on the strategy and start goal setting. We've all heard of SMART goals. We know we are supposed to use them to lose weight, study for exams and plan our careers. But did you know they also work for content marketing? In his article, Here's Why Your Content Marketing Strategy is Totally Failing, author Neil Patel states, "If businesses would forget about "strategy," and instead pick real goals, I think that content marketing would explode in effectiveness". Clear, concise, written goals ensure effective communication within the marketing team, one integrated focus for all departments/activities, and vision cohesion throughout the entire organization.
"SMART goals are powerful, unstoppable, and ready to push your marketing efforts to new heights of success," declares Neil Patel.
Here is a short summary of Neil's instructions for setting SMART goals to improve your Content Marketing Strategy.
#1: Be Specific with Your Goals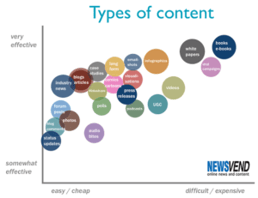 Make a list of the types of content tactics you will use. Define those tactics. Be precise. Select 1 or 2 main tactics to dominate your content marketing, but keep your overall strategy diverse to increase the chances of appealing to a larger percentage of the target market at all stages of the buying process.
#2: Make Your Goals Measureable
If you have measurable goals, then it is easy to evaluate your Return On Investment (ROI). Measuring your ROI is an effective way to define success. David Meerman Scott uses AdWords equivalency to measure ROI. Scott Severson tracks specific keyword data and measured SEO-click value in dollars. Other suggestions to measure ROI can be found in this HubSpot article. Pick a method that works for your business and stick with it.

#3: Verify that Your Goals are Attainable/Achievable
Are your expectations realistic? Can you achieve them in a reasonable amount of time? You need a clear definition of your success so that you know it is possible to achieve it. Your content will be directly tied to an attainable goal and how that goal will be measured.
#4: Confirm that Your Goals are Relevant
To be relevant, your goals for content marketing must be tied to your overall business goals. Neil Patel likes to think of content marketing as a funnel. "The skinny end of the funnel should be the company's business goal," he describes. Goals can involve after-sale activities such as customer satisfaction and retention too.
#5: Bind Your Goals to a Time Frame
A smart goal has a logical endpoint when you know definitively whether it has been achieved or not. Your goals should evolve as your business does. Although each goal will end, you will have multiple goals that overlap as part of your overall content marketing strategy. Neil Patel reminds us, "Content is a way of serving customers, and customer service is a never-ending process".
Tangible Words can help you set SMART Goals and...
References:
http://contentmarketinginstitute.com/2015/09/b2b-content-marketing-research/ (CMI 2016 industry survey **Note: Neil says 9% but study says 6%)
2015 B2C Content Marketing Trends – North America: Content Marketing Institute/Marketing Profs (2015 B2C Content Marketing Trends – North America: Content Marketing Institute/Marketing Profs)
https://hbr.org/2014/12/stop-using-battle-metaphors-in-your-company-strategy (Harvard quote)
http://contentmarketinginstitute.com/2016/02/content-marketing-strategy-failing/#.VykXAWAUscI.mailto
https://www.quicksprout.com/the-complete-guide-to-building-your-personal-brand-chapter-2/ (
http://www.webinknow.com/2013/05/building-inbound-marketing-assets-are-not-marketing-expenses.html (David Meerman Scott)
http://contentmarketinginstitute.com/2015/06/measure-content-marketing-roi/ (Scott Severson)
https://blog.hubspot.com/marketing/measure-content-marketing-roi

https://offers.tangiblewords.com/use-inbound-and-content-marketing