You've got a lot to do in a day, and you don't want to be in the office after hours every night. Hiring an inbound marketing agency can ease up on your task list plus increase the bottom line to finally satisfy the bigwigs. Outsource inbound marketing and add hours to your day with a whole team at your disposal!
You will be involved in creating the inbound marketing strategy, then delegate tasks, retaining control of the final approval. When your supervisors see how much money you are saving them and how many highly qualified leads you are bringing in, they'll appreciate that this was your suggestion.
"Our goal was to increase website traffic, get more traffic on social media, and obtain better leads. Tangible Words has already delivered this and more in just the first month." -- Nick, Chief Learning Officer, Area9 Learning
An External Inbound Marketing Team Improves Your In-House Team
A professional inbound marketing team wants to make your marketing department look even better. When you outsource inbound marketing to an external team it is not meant to replace your current staff but to allow them to work more efficiently. It's much more cost-effective to outsource your inbound marketing services. Instead of hiring a new person to assist your coordinator, get a team of six experts for the price of one full-time staff. And having a Marketing Coordinator to liaise with the team in the language of marketing makes the process even more efficient.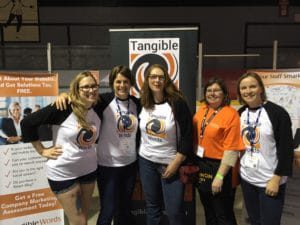 Outsource Inbound Marketing and Add These 6 Experienced Professionals to Your Marketing Arsenal
Project Manager & Content Strategist

Lead Writer & Editorial Planner

Bulk Writer

Copyeditor

Graphic Designer

Hubspot & Website Technician
"Tangible Words services are 100% professional, timely, proficient, and delivered in accordance with each project's budget. They offer professional short and long-term strategic communications and content marketing planning. We are glad they are part of our marketing team." -- Chris King, CEO, Quinte Economic Development Commission
We Work with You to Create a Long-term Strategy
We totally respect that you're an expert too. You know your company, your industry and your target audience. So we'll never publish without your review of the content we write. Let us add our inbound marketing expertise to yours, plus provide an external perspective to cut through the in-house noise to drive the project forward. As experts in Hubspot marketing, tracking, and sales software, we'll identify what's working, and improve results of your current strategy.
An External Perspective Can Provide New Insight
Who your target audience is

What type of content appeals to them

How various calls to action will motivate them

When to post and how often

What platforms to use
Target Every Stage of the Buyer's Journey to Increase Quality Leads
Do you already know about the buyer's journey and how to move your prospects along the conversion funnel? We can help target your audience even more accurately and nurture your leads through the process. Most marketing in-house teams only have time to target the 3rd and final stage of the Buyer's Journey - but we build your funnel with our capacity to start at the top of the funnel and build traffic and conversions of quality leads in the Awareness stage of the Buyer's Journey.

Awareness

Consideration

Decision
Content Creators Who Understand the Inbound Marketing Methodology
We don't have to tell you that inbound marketing is not the same as traditional marketing. You already know how much more effective this customer-centric strategy is. But you've got more tasks on your list than hours in the day. Let us lighten the load. When you outsource inbound marketing we work with you for to make sure you build brand awareness, increase website traffic; attract more quality leads to your sales team, and to warm up leads for your sales team so they can work more efficiently on the most-likely-to-close-prospects.
"Tangible Words brought our senior management team together and facilitated a strategic communication and marketing session. Alysha identified gaps and her team is now implementing vital communication to complement our in-house work to bring our objectives to fruition. We rely on Tangible Words for strategic content advice and expertise – to intelligently integrate with our team – and to fulfil our need for marketing coordination and planning. – Mauro Scanga, President, & Ron Vermey, VP Sales, Deep Foundations
Hire a HubSpot Partner
Tangible Words is an award-winning HubSpot inbound marketing agency partner. When you hire us, you benefit from the advanced features (to make your job easier) and comprehensive analytics (to prove that you know what you're doing).
Tangible Word clients have seen an increase in website traffic by 29% and a massive increase in social media of 230% in the first month of Inbound Marketing services..
Share This E-Book with Your Supervisor
Then contact us to discuss how we can help you.