When you create small business websites you'll immediately open up your company to a whole new pool of potential customers. Running a small business is no easy task. You're already stretched to your limits and might feel managing a website could be daunting and time-consuming. But it doesn't have to be.
Google processes more than 3.5 billion searches per day. If your business is not even searchable because you don't have a website then you are missing out on some serious business.
5 Tips To Help You Create Small Business Websites
You won't attract customers by simply setting up a website for your business. You'll need one that engages your customers and stands out from the crowd. Here are 5 tips to keep in mind as you create small business websites to set your business apart from your competitors:
1) Think content first. While a visually-appealing website is easy on the eyes, without engaging content, your clients won't have a reason to stay on your site. Search engines rely on relevant and updated content to determine which website ranks the highest. It's important to think content first, and then design. Your goal is to be on the first page of a search result. Using website content writing services helps you make your company website stand out.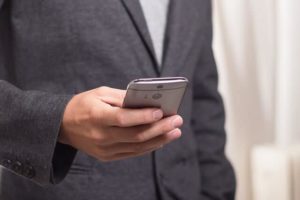 2) Make it mobile-friendly. People love to window shop and compare their options online first and they're doing it on their phones. If your website isn't mobile-friendly, you are virtually invisible to your customers. According to Google, 50 per cent of mobile users visit the stores they search for within one day. A mobile-friendly website makes it easy for your current customers to connect with you and for you to attract new clientele.
3) Choose the right domain name. Your customers will have a difficult time finding you if you choose an obscure business website address, or URL. Avoid odd spellings. Ending your URL with .com is the most universal option. However, you could choose to end it with .ca if you are based in Canada. Keep it relevant to your business name or service offered.
4) Choose a professional (and free!) Content Management System. You don't have to hire a website developer to set up a new website for you (though there are reasons you should). There are plenty of free Content Management Systems (CMS) which offer you a professional looking website that engages your customers. These platforms are free and extremely user-friendly (some offer paid options for advanced features too).
5) Budget for a professional. If you can find the money in your budget to outsource website development (and website content writing services) do it. Especially if you're not comfortable working with software and you're not familiar with how people search and buy online. Whether it's secure hosting, techie support or website content writing services professionals are not as costly as you might think. Tangible Word's copywriters, for example, are trained in areas like Search Engine Optimization (SEO) attracting the most clientele for your dollar. We also help you project manage the web process and liaise with the web developer.
Managing a website doesn't have to be confusing or difficult. By following these easy steps, your company will be sure to attract new clientele from all over the web.
Need More Tips? Use Our Checklist To Create Small Business Websites That Are Effective