How To Improve Sales and Marketing: A Better Sales Process
July 26, 2019 | 4 minute read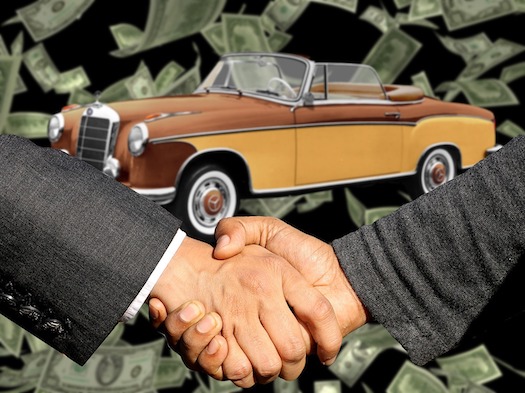 The traditional 5-step sales process included important and simple, although not necessarily easy, steps to guide salespeople from prospecting through to the sale.
It was very effective, for quite a long time. Before the internet most of us relied on salespeople to provide us with information about products that could solve our problems.
The 5-step sales process looks like this:
Identify your sales prospect
Get to know your prospect (knock on their door or phone them up at home)
Figure out the pain points they have
Pitch a solution for their pain point
Close the sale
Lather, rinse, repeat. It was a useful process, and many of the concepts are still relevant.
How the Internet Broke the Sales Funnel
Traditional sales and advertising doesn't work as well as it once did. It can be disruptive and annoying to customers, it can be very expensive to place ads, and it's very difficult to measure your return on investment (ROI). The old sales process takes a lot of time, and your sales team could be more efficiently speaking with and closing warm leads.
On top of all this, Millennials, nearly the largest purchasing demographic, hate taking phone calls or answering the door. They also have more access to information than ever before and do more online research before purchasing.
The internet has exponentially increased access to information, and so more consumers are able to conduct their own research. People are tired of seeing ads and commercials, and they're looking for trustworthy information.
How to Improve Sales and Marketing for Consumers
You can easily learn how to improve sales and marketing processes by better connecting with potential customers. To implement this you can use the principles of inbound marketing. Inbound marketing provides value to your ideal customer, attracting them naturally to your website. Three of the key concepts behind inbound marketing can be used to improve your sales and marketing efforts.
1. It's All About Relationships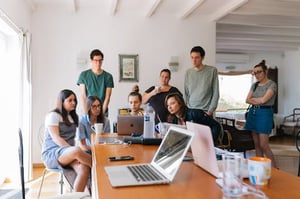 The tried-and-true concept of building relationships with potential customers, has held strong from traditional marketing through to modern marketing and sales. However, there's a different intent behind modern sales relationships. Now, the intent is to really understand your customers and do your best to help them achieve their goals over the long run, not just to help them eliminate one or two immediate pain points. It's more expensive to constantly keep finding new customers than to nurture existing client relationships.
Positive relationships lead to repeat clients and referrals.
Developing strong sales relationships requires transparency, honesty, and integrity. Potential customers want to see clearly that you care about people, the community around you, and the environment. To show these characteristics it's important to be open about your processes and responsive when customers or leads ask questions.
2. Providing Valuable Information
Your customers want to find answers to their questions. If they routinely find those answers on your blog or social media, you will start to become their trusted source for information in your industry.
Time is a finite resource. If you prove to be a trustworthy source, your customers are going to hire you to do what you do best, so they can get on with whatever it is they do best. Quality information brings your customers to you. With your sales team spending less time pounding the pavement, they can spend more time connecting with warm leads and making sales.
In order to attract new leads, you need to consistently publish valuable content online. You can have a member of your marketing or sales team write the content that speaks to your ideal client, or you can outsource this process to a team of experts. Outsourcing your content creation to an inbound marketing agency means you can focus on your product launch strategy, and trust that quality content is getting to your audience on a regular basis.
3. Developing a Collaborative Sales Process
There's no room in modern sales for secrets or competition. Your sales team will be far more productive and efficient if information is shared. All client details, contact history, and purchasing history should be stored in one centrally accessible place, like Hubspot, available to the entire sales team.
Gaining perspective from a peer on projects can be extremely valuable. Keeping client information all in one place allows other team members to offer new perspectives, ideas, and fill in possible information gaps. Anyone can then help customers who call in and your team spends less time digging for information.
Using inbound marketing to attract your ideal customer, building their trust with valuable content, and fostering a well informed collaborative sales team means a more efficient sales process.
Outsource Content Creation to Improve Sales Performance
References:
http://theapopkavoice.com/why-traditional-advertising-doesnt-work-anymore/
https://www.pewresearch.org/fact-tank/2018/03/01/millennials-overtake-baby-boomers/
https://www.impactbnd.com/blog/traditional-sales-vs-inbound-sales
TW Blog Sign-Up
Learn more about how to grow your business and improve your sales team process.