As you're preparing your innovative new product for launch, you're probably thinking about how to promote it. You'll want cutting edge marketing to match your cutting edge product.
Traditional 7 step sales processes just aren't working anymore. The internet has significantly changed how people buy, so marketing must also change.
Inbound marketing
is now used to attract, engage and delight your customers through every stage of the sales process.

The 7 Step Sales Process is Outdated
The traditional 7 step sales process essentially means you start over every month, building brand new relationships from cold calls, spending significant resources to find new customers.
However, the customer currently holds all the sales power. According to Hubspot, "Third-party review sites, peer-to-peer recommendations, and word-of-mouth play a bigger role in buying decisions than ever before. At the same time, overall trust in businesses is plummeting: 81% of buyers trust their families' and friends' recommendations more than companies' business advice, and 55% report trusting the businesses they buy from less than they used to."
The sales process must adapt to the new ways of purchasing; it needs to be cyclical, not linear. You can embrace the customer's power, and delight them throughout their buyer's journey to build momentum in your sales processes.
Modernize Your Sales Process with the Sales Flywheel
Instead of continuing on with the linear 7 step sales process, the sales flywheel is an alternative that keeps the customer as the central focus all the way through the sales process. The end goal is helping the customer to find success. Instead of attracting a customer, convincing them to buy a product, and letting them go on their merry way, the aim is to keep customers delighted through every phase, from initial contact to continuous support after purchasing.
A delighted customer is more likely to be a repeat customer and to refer their friends.
In order to delight the customer it's important to rethink how internal processes affect customer interactions, and find ways to make the customer experience as pleasant as possible. Here's how you can adjust your sales strategy to fit the new cyclical concept.
Empower Sales Teams to Delight Customers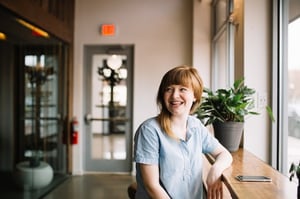 First, it's important to Identify which areas of your business have the most impact on customer experience. Broadly, this is mostly likely marketing, sales, and customer service.
It's essential to empower these teams to do their best to delight customers, who then tell their family and friends about their experiences. Customer referrals are warm leads for your sales teams, meaning the customer has already done some of the work for you. Then your sales team can support that new lead in achieving their version of success.
Eliminate Friction Points in Your Sales Process
Once you've empowered your teams to delight customers in every step of the process, it's time to analyze your internal processes. Any friction points for the customer, where things get confusing or complicated or difficult, need to be fixed.
There are a few ways to find out where your friction points are. You can analyze your existing structures and systems, and you can directly ask your customers for feedback. Consider asking your sales team and your customers the following questions to clean up your sales process.
How Can Leads Contact You?
Is it complicated? Do they have to fill out long forms? Is there only one way for them to contact you? Make it as easy as possible. Leads should be able to contact you in seconds. You can accomplish this by having response strategies in place for each avenue of contact.
If you have a contact form, there should be an automated response acknowledging the submission. Social media channels should be monitored frequently and responses acknowledged as quickly as possible. Having a chatbot on your site is also an excellent idea.
Making it easy for your customers to contact you takes some of the pressure off your prospecting process. More potential leads will come to you if it's easy.
Can You Automate Anything?
There are many marketing and sales tasks that can be automated, freeing up time for you and your team to focus on how you can delight your customers.
Automating your lead nurturing process, with software like HubSpot, means your leads are warm before your team actually talks to them for the first time, shortening your sales cycle and increasing the efficiency of your sales team.
Can You Outsource Anything?
Many pieces of your marketing strategy can be outsourced. Content creation can be taken off your sales and marketing teams' to-do list and outsourced to inbound marketing experts. Letting someone else handle content creation means your sales team can be more engaged with your customers.
Outsourcing your content creation reduces your presentation time in the sales process. Your content is always presenting to leads and existing customers online, so you can focus on warm leads and furthering customer relationships.
Have You Asked for feedback?
Customers will tell you where they get hung-up in your sales process; all you need to do is ask. Implementing customer surveys, with a service like SurveyMonkey, as part of sales your strategy is a simple way to find and fix friction points.
Feedback is an essential part of closing a sale and client aftercare. It shows your customers that you value their input. Implementing their suggestions will be even more appreciated.
Adjusting your sales process to a cyclical flywheel perspective will build momentum and sales growth using inbound marketing tactics.
Inbound Marketing Will Revolutionize Your Sales Process
References:
https://www.hubspot.com/flywheel
https://research.hubspot.com/customer-acquisition-study
https://www.hubspot.com/inbound-marketing
https://hbr.org/2018/11/replacing-the-sales-funnel-with-the-sales-flywheel