Sales Award 2020: Stevie Bronze for Sales Growth Achievement
April 30, 2020 | 3 minute read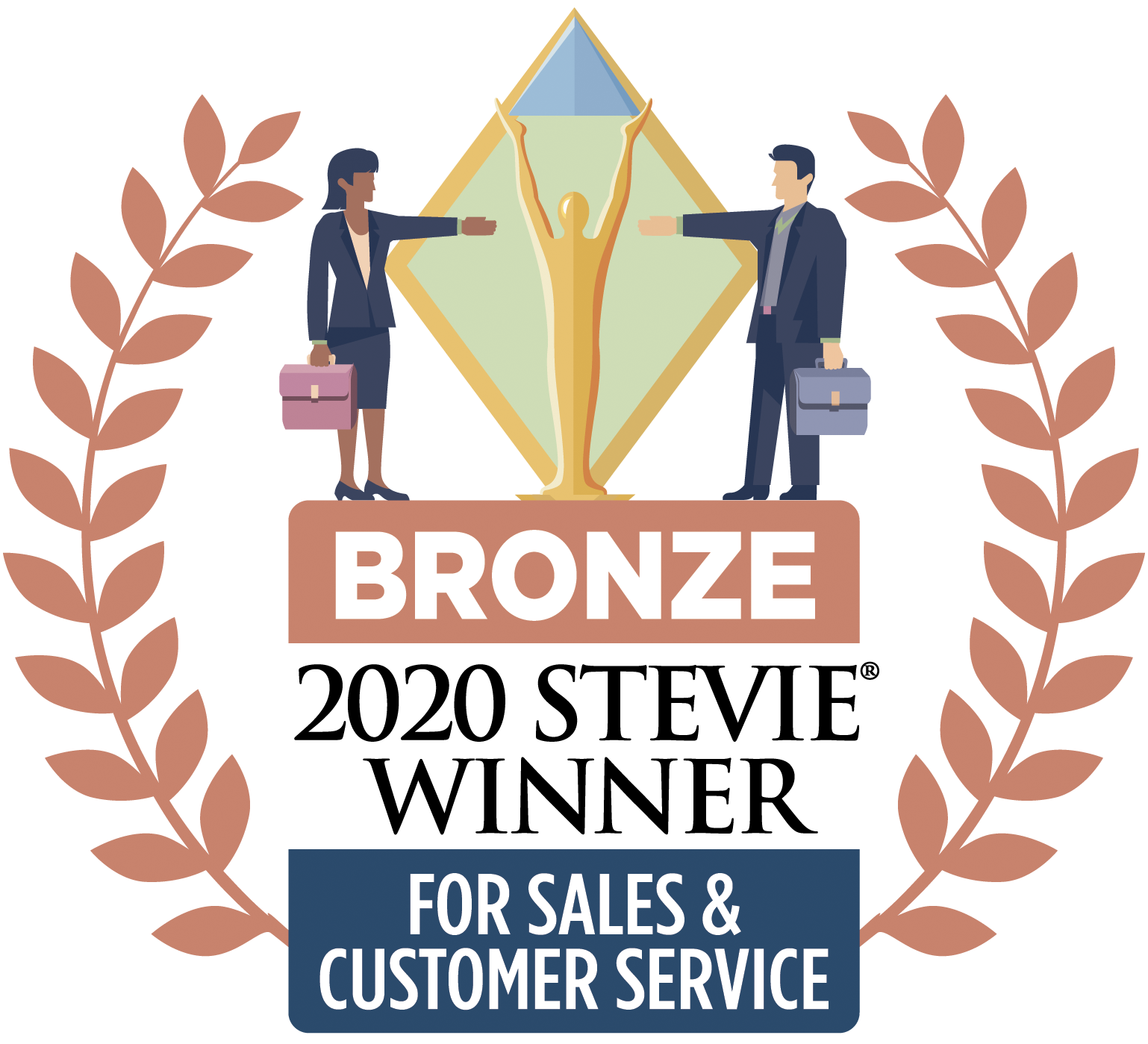 Tangible Words has been named the winner of a Bronze Stevie® Award in the Sales Growth Achievement of the Year Category in the 14th annual Stevie Awards for Sales & Customer Service. The Stevie Awards for Sales & Customer Service recognize the achievements of contact centre, customer service, business development and sales professionals worldwide. The Stevie Awards have been hailed as the world's premier business awards.
The competition has been known to attract more than 2,500 nominations in more than 150 categories. Tangible Words' sales award win was in the Sales Achievement category.
Tangible Words: Sales Award for a Year of Significant Growth
The decision to submit an entry for the Sales Growth Achievement of the Year award was easy when Sales Support Growth Agency Tangible Words saw the exceptional year it was having: a 52% increase in revenue!
How did they do it? In 2019, Tangible Words' focus shifted to scaling growth. They recognized their barriers to growth:
pipeline bottlenecks
sales process falling away when too busy with operations
inefficiencies in the client onboarding process
inefficiencies in operations
They overcame those barriers by revising their inbound marketing operations and implementing:
new scalable processes (including a process for client renewal)
simplified sales forecasting
training sessions for staff and contractors
project templates, and sales and onboarding checklists
Tangible Words' new streamlined operations and sales processes allowed the key sales resource to ramp up productivity. 2019 also saw Tangible Words recognized as a Preferred Agency Partner with HubSpot, at gold status.
This is a significant increase in revenue however I think the more impressive part of this submission are the systems you've put in place to really build out and standardize various parts of your organization. Stevie Awards Judge
Tangible words also recognized a need to provide their potential clients with a wider variety of their products. They created new, diverse revenue lines, moving beyond inbound marketing services to a diversified growth suite sales, customer service and inbound marketing service package.
Creating new revenue lines and diversifying marketing services seem to be working well. Good achievements! Well done. Stevie Awards Judge
Tangible Words documented every step of their new scalable processes so they could apply the same improved process to their customers. One client saw sales grow by $300,000 net new revenue, and overall $1 million in revenue that was influenced by Tangible Words' services. The same client also saw significant increases in reader engagement with their website, and succeeded in increasing their reach and breaking into new markets.
Congratulations on achieving great results with your client through structure and execution using HubSpot CRM. I especially appreciated that you included the Renewal stage in your pipeline stages, an often overlooked part of the business process. Well done. Stevie Awards Judge
Tangible Words' efficient inbound marketing and sales processes improved their sales growth without compromising the high priority Tangible Words places on being a positive, well-balanced workplace. And this isn't the first time Tangible Words has been recognized: In the past three years they have also won a gold Stevie Award - as well as two bronze Stevie awards - for Women in Business, a HubSpot Impact Award for Integrations Innovation, an IABC Gold Quill Award of Merit, and a 2020 and 2019 Clutch award for Top Advertising and Marketing Agencies in Canada.
Tangible Words has also been recognized by two reputable publications for their inbound marketing acumen:
Top inbound marketing agencies in Canada (Clutch)
Top 100 marketing blogs and websites (Feedspot)
Top SEO companies in Canada (Clutch)
About the Stevie Awards
Stevie Awards are conferred in eight programs: the Asia-Pacific Stevie Awards, the German Stevie Awards, The American Business Awards®, The International Business Awards®, the Stevie Awards for Great Employers, the Stevie Awards for Women in Business, the Stevie Awards for Sales & Customer Service, and the new Middle East Stevie Awards. Stevie Awards competitions receive more than 12,000 entries each year from organizations in more than 70 nations. Honouring organizations of all types and sizes and the people behind them, the Stevies recognize outstanding performances in the workplace worldwide. Learn more about the Stevie Awards at http://www.StevieAwards.com.
TW Blog Sign-Up
Learn more about how to grow your business and improve your sales team process.