The Company Growth Podcast: Perfect Hiring Practices
December 08, 2020 | 3 minute read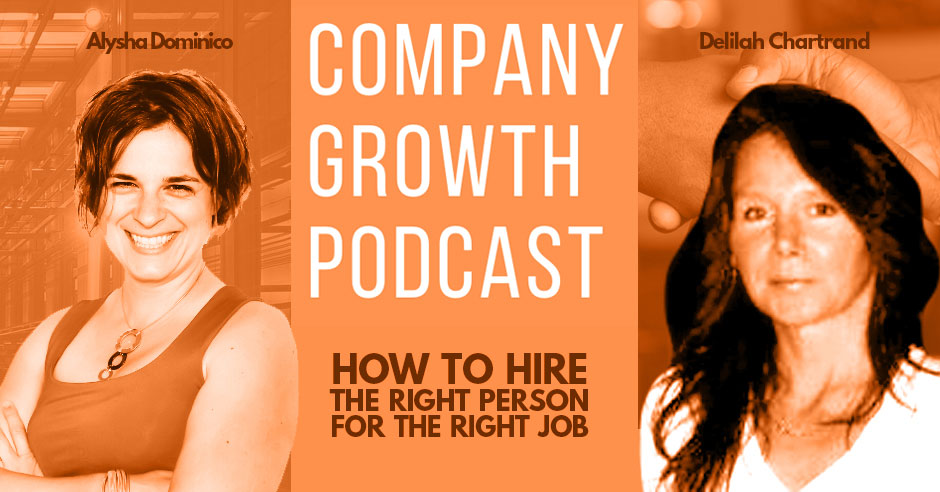 It might be one of the oldest problems in business: successfully recognizing a hire who will be a great fit for your company. In episode 10 of the Company Growth Podcast, Alysha Dominico interviews Delilah Chartrand of Nesda Technologies Ltd., a company that provides I.T. services and consulting. In this episode, you'll hear how Delilah approaches the interview process, how to deal with a low-availability talent market, and why developing a strong personal brand can help a company's appeal.
The Secret to Job Interviews and Finding the Best People for the Job
First of all, "This isn't Utopia," as Delilah says. There are always going to be struggles in the hiring process and the first idea that should be cast out is chasing a hiring perfection that doesn't exist. What employers who want to improve their hiring process need to understand is that hiring is a conversation.
Delilah is a big believer that an employer's part in a job interview is not just to evaluate a potential hire, the interviewee is there to interview you as well. A good hiring process is treated as a two-way street, and the company has to be as good a fit for the employee as the employee is for the company.
It's especially important to recognize if your industry is experiencing a low-availability talent market, where skilled employees are in such high demand that they have their pick of companies to work for. Pay might not be everything to people in such a position, so get creative about selling your company atmosphere and the benefits your company brings that might be less tangible than pay and benefits.
Focusing on the other benefits of your company (culture, business ethics, etc.) is especially true when hiring younger people: millennials are more willing than previous generations to take a pay cut if it means finding a workplace that fits them better.
Listen to the Company Growth Podcast for Insider Insights and Secrets
In the Company Growth Podcast, you'll find tips for any kind of business, in diverse industries. You'll find the inspiration you need to grow your business even during a crisis. And you'll be a part of conversations that reflect business trends to keep you in the loop.
Pick up inbound marketing tricks and tips and have fun doing it, while listening to the Company Growth Podcast on your listening platform of choice!
Stream Episode 10 and learn:
The key to a great company atmosphere,
How to create a company where employees don't feel like they work for you but with you,
How to stand out in a low-availability talent market,
And more!
Listen to Episode 10 of the Company Growth Podcast
Check out Episode 10 of the Company Growth Podcast streaming now on your favourite podcast platform!
To browse more episodes by topic, visit the Company Growth Podcast webpage.
Ready to Grow? Apply for a Spot in Our Free Sales Growth Program.
References:
https://www.themuse.com/advice/would-you-take-a-pay-cut-in-exchange-for-worklife-balance-studies-say-you-would
TW Blog Sign-Up
Learn more about how to grow your business and improve your sales team process.