This Podcast Will Help You Never Lose a Customer Again
June 01, 2023 | 2 minute read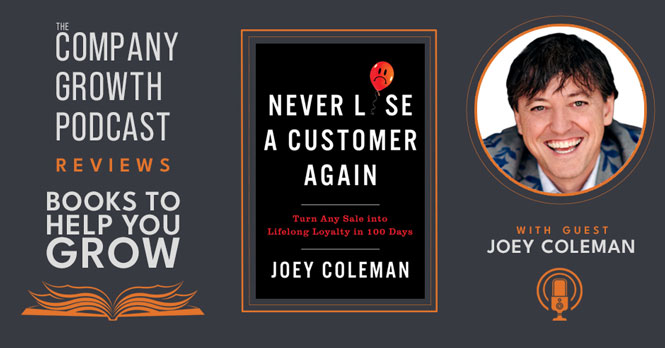 Losing a devoted customer can be brutal. Of course, this can happen in the natural course of business but sometimes it may seem like their reasons for leaving don't add up. Luckily, there's a fantastic book on why customer retention sometimes goes wrong despite your best efforts, and what you can do to improve.
Never Lose a Customer Again is a book by business consultant and award-winning speaker Joey Coleman. The book discusses a crucial window of time in the buyer's journey: the first 100 days after a lead becomes a customer. These first 100 days are so important because if a customer feels neglected during this period it can lead to a feeling of buyer's remorse that can be difficult to overcome.
What makes Joey's book so great for business owners looking to improve customer retention is that it identifies 8 emotional phases that a customer goes through in the first 100 days following a purchase and provides a real-life case study for each phase so each is clearly defined and relatable, and solutions start to emerge.
Learn Tips from Never Lose a Customer Again on This Business Podcast
To keep your instincts for company growth sharp, you probably do your best to make time for business books, business podcast episodes, blogs, and webinars. But do you find it difficult to take the lessons and apply them practically to your own life?
The Company Growth Podcast can help. With our latest series, Books to Help You Grow, host Alysha Dominico and guests talk about the key lessons from featured business books and how they've applied them to their own businesses. It's a practical effect to a theoretical discussion.
Listen to Our Business Podcast and Learn From the Best Business Books
Listen to the latest episode of the Company Growth Podcast and learn from the best lessons of Never Lose a Customer Again so that you can keep clients happier for longer and grow your bottom line.
To browse more episodes by topic, visit the Company Growth Podcast webpage.
Let's Grow. Apply for a Spot in Our Free Sales Growth Program
References: https://joeycoleman.com/book/
TW Blog Sign-Up
Learn more about how to grow your business and improve your sales team process.