This New Book Podcast Discusses Your Favourite Business Books
April 05, 2023 | 5 minute read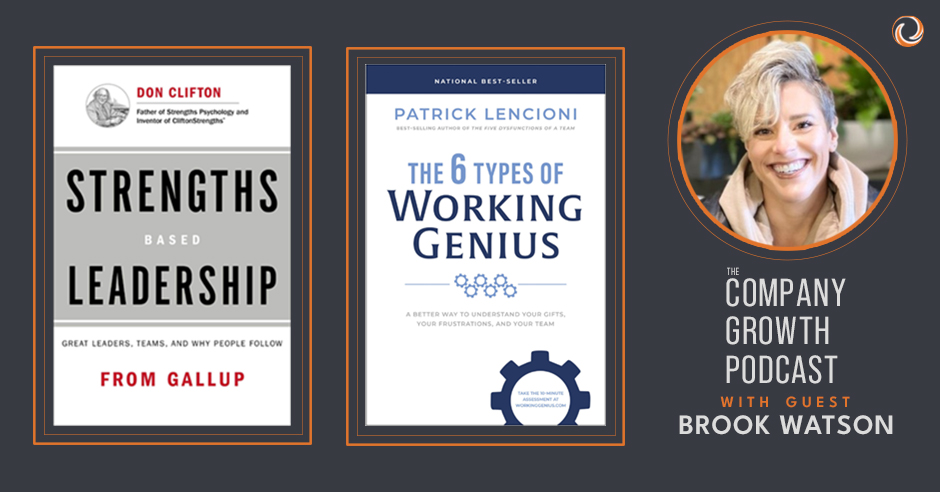 At Tangible Words, we love to read.
We love to read in our leisure time, but we also love to read business books. It's a fantastic way to get a new idea or to help us develop past a growing pain.
As we talked to other business leaders, we found that many of them share this love of reading too. Business leaders love to talk about the books that they read over and over again, the books that inspired them to change the way they grow and structure a business.
We're bringing those conversations to you in a new series of the Company Growth Podcast called Books to Help You Grow.
For most of the series, we'll cover one book per episode, but this debut episode is supersized! We talk about The Six Types of Working Genius by Patrick Lencioni and Strengths Based Leadership from Gallup, and we invited the amazing Brook Watson from Crystal Knows to discuss her app, which helps teams understand different personality types to communicate better, build company culture, and close deals.
Strengths Based Leadership: About the Book
Gallup is a global analytics and advice firm that put together the book Strengths Based Leadership. Gallup studied 1 million work teams, conducted more than 20,000 interviews, and interviewed thousands of people to collect the data for this book. Also included are firsthand accounts from some of the most successful organizational leaders in recent history, so you can learn from the masters directly.
The 6 Types of Working Genius: About the Book
The 6 Types of Working Genius: A Better Way to Understand Your Gifts, Your Frustrations, and Your Team is based on the premise, shown through research, that employees work more efficiently when they are doing work they enjoy and find fulfilling. People are divided into 6 types of genius, the areas where they excel. These types are Wonder, Discernment, Enablement, Invention, Galvanizing, and Tenacity. The book explains these types of genius and how matching each type of employee to the right tasks will make them happier and more effective at their jobs.
Crystal Knows: About the App
Trusted by over a thousand organizations, Crystal Knows helps you communicate more effectively. You can use Crystal Knows to help identify a prospective client's personality type, so that you can talk with them the way they like to be talked to. We all have different ways of communicating, so having advice on how to reach someone the right way is going to be invaluable. For writing emails, you can get real-time advice on how to write more persuasively for the person you're writing to. And you can learn more about the personalities of the people on your team, and how to best work with them so you can be a more empathetic and effective leader.
How to Deal with Conflict in a Business Relationship
Conflict can't be avoided in the workplace. So, understanding conflict is a way to improve your team's effectiveness.
Here are some tips from The Six Types of Working Geniuses by Patrick Lencioni and Strengths Based Leadership from Gallup:
Talk to people in the way they like to be talked to. It's important to have an understanding of the different types of personalities that you are working with. If you do research on different personality types or use a platform like Crystal Knows, you'll be able to talk to your clients and employees in a style that works for them, avoiding conflicts and helping to communicate better when conflict does occur.

Don't spend time focusing on what a team isn't good at. Instead focus on a team member's strengths. If a team member has a particular weakness, pair them with another colleague who is strong in that area. Make sure you are utilizing all the talents and strengths that an employee offers.

Index your team's skills so you can know at a glance who would be helpful on a certain task or team.



Listen to the First Episode of Books to Help You Grow
Listen to the first episode of the Company Growth Podcast's limited series, Books To Help You Grow, and learn more about the benefits of these 2 great books and Crystal Knows.
To browse more episodes by topic, visit the Company Growth Podcast webpage.
Ready to Grow? Apply for a Spot in Our Free Sales Growth Program.
References:
https://wordsrated.com/business-books-statistics/
https://store.gallup.com/p/en-us/10369/strengths-based-leadership
https://www.gallup.com/corporate/212381/who-we-are.aspx
https://www.workinggenius.com/
https://www.thegrowthfaculty.com/blog/6typesofworkinggenius
TW Blog Sign-Up
Learn more about how to grow your business and improve your sales team process.