Here's Why Desjardins Has A Good Website
October 14, 2015 | 3 minute read
Your Website Builds Rapport With Your Clients
Your homepage is your storefront—your client's first impression of your business and the place to build rapport. Good content writing is key to that rapport. But compelling text is not enough. Your client must also trust you. A well laid-out website encourages trust-building dialogue. A homepage that's easily navigated shows readers their time is respected.
You Establish Trust With Your Clients on the Homepage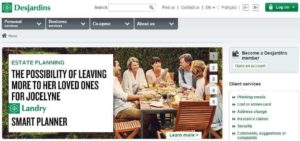 People want to trust an essential service. And so it's good business for a bank to have a reassuring web presence. Desjardins has a good website because it does this by respecting its readers' time and providing clear calls to actions.
Make sure your homepage is reassuring. Find out how Tangible Words's Homepage Rewrite service can help.
Headings: Take Your Readers Where They Want to Go
Money and investment are large topics. But when readers arrive at a bank's website, they're not looking for the full splash of information. Site visitors may even be unsure what they want, and are therefore looking for direction. Focused content respects a visitor's search.
On Desjardins's homepage, captivating headlines greet site visitors. These headlines clearly state the value of exploring a topic further (example: "The possibility of leaving more to her loved ones for Jocelyne"). The visitors know immediately why a certain topic is the right one for them to pursue. From a copywriting perspective, it's necessary to tell a reader WIIFM (What's In It For Me), and Desjardins's headlines accomplish this.
Benefit-driven headlines are not the only option for Desjardins's homepage visitors. Clear menu buttons, supported by short, clear text—no more than one or two sentences, another sign of good copywriting—guides the reader. The clear text and clear calls to action show respect for site visitors. They don't have to cast around for information because a simple skim directs them.
And when a site visitor wants to explore further….
Website Navigation: A Seamless Journey Toward Website Credibility
The calls to action on the Desjardins homepage guide readers further into their topic of choice. The website maintains its respect for its readers as subsequent pages contain clear headings, short and readable text, and obvious actions for finding out more information…always with the possibility of returning to the home page. Ease of navigation shows site visitors they can trust Desjardins. It assures them that their experience at a physical bank branch will be equally seamless.
From the perspective of good copywriting, Desjardins's interlinks to internal pages help build the website's credibility. The longer readers stay on a website, the more legitimacy the website gains with search engines.
Your Online Business Reputation: A Client-Focused Website
Banking is an anxious enough activity; a client doesn't need any trouble from the bank itself. Desjardins's website—with its good copywriting and good website interaction—creates a trusting, respectful relationship with its website visitors. Desjardins's website is well done, both from a reader's and from a copywriter's perspective.
Find out here how Tangible Words can help you make your website client focused.
How To Plan Your Email Marketing Campaigns & Generate Qualified Leads
Email marketing is still an effective way to reach interested buyers. You can keep your emails out of your recipients' trash folder when you pay attention to four essential components of successful email campaigns.
TW Blog Sign-Up
Learn more about how to grow your business and improve your sales team process.