Tangible Words Team Wins 2023 Website Award for Excellence
January 30, 2023 | 3 minute read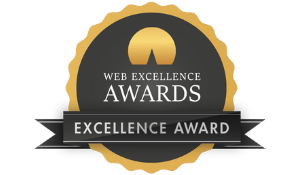 Tangible Words has received the Web Excellence Award. This website award was won in the category of Website / Home Renovation for work on the NatureKast Outdoor Kitchens and Cabinets website.
The Web Excellence Awards are granted at different levels. Entries earning the highest scores in their respective categories receive an "Excellence Award."
Here's why the NatureKast Outdoor Kitchens and Cabinets website was deemed worthy of the website award:
NatureKast's new website captures an extensive product range in a sleek yet powerful design layout. The new site goes to the next level by offering homeowners a seamless way to envision their state-of-the-art outdoor kitchens.
Expert Design and Content Copywriting Combined for Website Award
The Tangible Words team of growth-driven website designers and content creation experts followed its pillar adage of "content, then design" to rebuild the NatureKast website.
NatureKast set a goal to include their inspirational designs in a more visual way, with improved user navigation and SEO. Tangible Words arrived to help.
Now, powerful imagery and clear language communicate the beauty and utility of NatureKast outdoor cabinets for your outdoor kitchen.
The copywriting team reworked the previous site's architecture and content, creating concise and informational SEO copy to complement the new easily navigable site. Then the website design and development team restructured how to present NatureKast in its best form with powerful imagery, fluid, and instinctual navigation, and sleek design showcasing their extensive range of styles, finishes, and features.
Rebuilding a website can go wrong in so many ways. We've worked hard to create a comprehensive website redevelopment process that works for our customers and their users. Now that we revitalized NatureKast's website, they have an industry-leading innovative site that highlights the best features of NatureKast outdoor kitchens.

- Alysha Dominico, Tangible Words Co-Founder

About the Web Excellence Awards
The purpose of the Web Excellence Awards is to promote excellence on the Web and set standards. The awards honour distinguished projects created by digital and creative agencies, designers, creators, freelancers, and entrepreneurs worldwide, such as:
Websites,

Web Marketing Projects,

Videos,

Mobile Sites/Apps,

Social Media Campaigns
The award of excellence is given only to those entrants whose ability to represent them as the best of the Web. The 8th WE-Awards competition saw over 1,200 entries worldwide, including 47 US States and 39 countries, including Australia, Canada, Italy, the UK, Slovenia, Switzerland, India, Ireland, and Germany.
You Can Get More Traffic to a Growth-Driven Website Too. Find Out How Today.
TW Blog Sign-Up
Learn more about how to grow your business and improve your sales team process.