3 Ways to Avoid Email Marketing Mistakes
September 28, 2016 | 1 minute read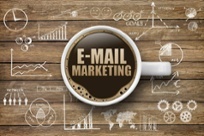 The Good News - people open up our e-newsletters (even if it is to tell us we made a mistake) and they also know how to share or comment using the social media buttons (in order to get a live response!). Two big wins for email marketing!
The Bad News - On our latest e-newsletter (announcing our change from

Constant Contact to Hubspot) the personal token (Dear Firstname) didn't actually add in people's first name. This meant that EVERYONE received an email that started with Dear Firstname! How embarrassing, so we made a checklist to follow so this doesn't happen to us again - thought it might be useful for you too!
Here Are 3 Ways to Avoid Email Marketing Mistakes
Check the first name code - even if you are duplicating a previous email - it gets messed up in draft versions. Even after all was working fine in Draft 1, somehow we didn't catch it in Draft 2. Best practice is to always redo the code and triple check it!
Make sure people are required to fill in their first names on contact forms. Check all subscriptions forms and make sure the first name is 'required' so you can make newsletters as personal as possible.
Preview and Send to Yourself First - never just send out to your list. Proofread for spelling errors; check your links, and confirm your images are also linked to articles.
Learn more about Email Marketing Software like Constant Contact vs. Mailchimp? (Don't worry we will be doing a review on Hubspot soon!)

TW Blog Sign-Up
Learn more about how to grow your business and improve your sales team process.