Analyze Your Sales and Marketing With HubSpot Analytics
March 24, 2020 | 6 minute read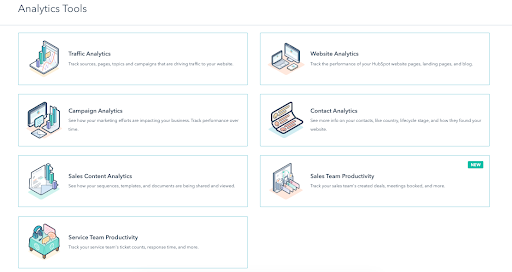 Metrics, analytics, statistics & data...for your website, marketing campaigns, contacts, and sales pipeline: the list goes on and on. There's so much available data to track and assess the health of your business! Top marketers like Neil Patel frequently discuss the importance of regularly collecting and analyzing website data. But how many of us actually understand these stats?
Basically, you can collect data from almost anything you want. On top of this, there are tons of free tools to help you analyze the health of your website and marketing campaigns. But most of these tools are limited; they only analyze a specific data set.
HubSpot, on the other hand, tracks - all in one place - performance on all aspects of your company's marketing, sales and service.
But if you don't know how to relate all that data to your marketing or sales, and interpret the significance of the trends you're seeing, the numbers become useless. So what are you supposed to do with all that data from HubSpot, and how can you make it relevant to your sales process?
What Metrics Does HubSpot Analytics Track for Me?
HubSpot's analytics tools are run by codes installed in your website. If you built your site on HubSpot's platform, the tools are included automatically. If you didn't, you'll need them installed. A HubSpot Partner like Tangible Words can help.

Your HubSpot analytics data is found under the reports menu. In this menu, you'll see the following analytics: traffic, website, campaign, contact, and sales and service team productivity.
Let's go through these analytics in order to understand them.
HubSpot's 4 traffic analytics track:
sources (where your visitors come from),
topic clusters (main topics you want to build authority on),
what website pages get the most traffic, and
which specific campaigns (tracked by UTM Parameters) are effective.
1) Sources

Sources show you where most of your visitors are coming from, whether that's organic search, direct traffic, social media, referrals from other sites, or email marketing. The information is given in the form of a chart, and when you look at it, it's pretty clear which area is bringing in the most traffic. It's great to have strength in one area, but the sources chart also allows you to better diversify your traffic.
Organic traffic is earned when people search ideas, questions or topics. The search engine will deem which sites have the most relevant information and will produce a list which searchers can click. If your organic search numbers are low, you might need to step up your inbound marketing with some high-quality SEO website content. Organic search is earned with good quality content; you can't buy this type of traffic.
Direct traffic includes someone typing your URL directly into their address bar, clicking a link received by email from a friend, or clicking a bookmark. Direct traffic is difficult to influence. It can be tied to brand recognition, so if your company name is really well known, like Starbucks, you're likely to get direct traffic.
Social media is people who have clicked through to your site from any social media platform - for instance, from a story they found about you on Instagram. Social media has huge potential to drive traffic to your website, so having an active social presence encourages viewers to click through to your site.
Referrals are when a visitor finds your site from another website, usually as a link embedded in one of that site's pages. Referrals are a bit trickier to develop but are very valuable for boosting website SEO. Ideally, you want referrals to be genuine, where someone actually liked your product enough to voluntarily link to your site and recommend you to their audience.
Email marketing is visitors who have clicked through to your website from your e-newsletter or email campaign. Email marketing traffic requires having an email list and delivering or linking to content valuable to your reader.
2) Topic Clusters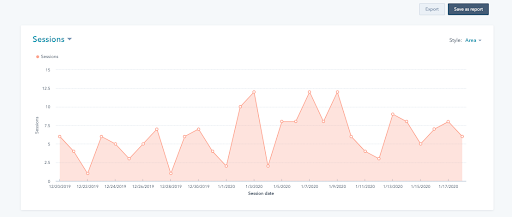 Topic clusters are groups of subtopics relating to a single core topic, hosted on a pillar page. If you've mapped out your topics and attached them to your content in HubSpot, the graph will show you which topics are the most popular on your website. This can be really helpful because you can tailor your content creation to continue creating new traffic in well searched terms..

If you click on one of your popular topics, you'll see which subtopics are the most popular and effective for your inbound marketing. You'll likely notice that topic cluster sources don't bring in as much traffic, but the visitors who find that very specific thing on your website tend to stay longer.
3) Website Pages

This graph shows you which pages have the highest number of visits, how long visitors stay on a page, or if they exit your site after viewing a page (called site abandonment). With this info, you can analyze why those pages might be so popular, and then improve other pages on your website.
4) UTM Parameters
UTM Parameters are basically tags that can be added to the end of your URL to provide detailed tracking on promotional campaigns. UTM Parameters are important because they tag all marketing efforts in a specific campaign so you can identify the best overall approach, and find out what items help to achieve your marketing goals.
To use UTM Parameters, you add detailed information to a URL. Doing this won't change the content on your page, but allows HubSpot to categorize different success measures of your campaign. Adding a UTM_Content tag will show you exactly which element of your advertisement the visitor clicked on. This can be really helpful for in-depth testing and optimizing ads.

If you are interested in using a UTM tag to test your campaigns, HubSpot has a free UTM builder with certain subscriptions.
Website Analytics
HubSpot's website analytics tool tracks the overall performance of your HubSpot pages, landing pages and blogs. The tool shows how many times each page has been viewed, how many times a form has been submitted and how many new contacts you've captured, among other things.
These stats are valuable for optimizing different areas of your website. For instance, if your page views are high but don't result in new contacts, you'll want to look deeper and find out why people are leaving your website before filling out your form.
Campaign Analytics
HubSpot's campaign analytics show how your marketing efforts are impacting your business. This tool tracks campaign performance over time, and reveals how contacts are influenced and how they engage with your marketing. For instance, the tool can show who has clicked on links in your emails, who has downloaded your free offers, or who has submitted a form on your website.
Contact Analytics
HubSpot's contact analytics give you a closer look at your CRM contacts. This includes information such as country of residence, lifecycle stage, and how the contact discovered your website.
Sales Team Productivity
HubSpot's tools allow you to manage projects and your sales team. You can view new deals, watch the deals close, see who is working on which tasks, and observe the number of meetings booked, calls made, and emails sent. This section is excellent for project and team management.
Service Team Productivity
HubSpot's tools allow you to track your service teams' ticket counts and response time, see how long team members take to reply to a message, and notice how long tickets remain open. By doing this, you can assess how long customer service inquiries take and observe if it has a direct effect on customer satisfaction.
HubSpot: View Important Business Analytics All in One Place
References:
https://neilpatel.com/blog/google-analytics-content-marketing/
https://neilpatel.com/blog/the-ultimate-guide-to-using-utm-parameters/
https://www.webconfs.com/importance-of-backlinks-article-5.php
https://www.webopedia.com/TERM/A/abandonment.html
TW Blog Sign-Up
Learn more about how to grow your business and improve your sales team process.