As a business person, you're an expert in your field or you're becoming one. But you can't be an expert at everything! Sometimes having good business sense means knowing when to call in the cavalry - they can share their website content writing services expertise and you can focus on doing what you do best. In the world of marketing and sales, this is a good way of ensuring a professional and pleasing end result.


One area of business you may need expert help with is writing content for your website. At Tangible Words, we want to do our part to provide content reflective of your unique value - so that you can do your part, and deliver that amazing value to your customers!
Website Content Writing Services: 3 Reasons Why Outsource Content Creation
Content creation may appear simple on the face of it, but whether or not you use the right words at the right time can make or break a marketing campaign.
Time: If the content you're coming up with just doesn't feel right, and it's going to take a lot of time to get it right, perhaps your time would be better spent elsewhere. You have that option! Website content writing services can create content specific to the vision you have for your business, so that you can invest your time on other matters (like implementing

marketing automation strategies

to save even more time!).

Fresh Perspective: You're close to your business - you need to be. Sometimes, though, you can get too close and miss what's right in front of you. Online writing help can show you things you didn't know you were missing. Perhaps your products have

benefits

you haven't considered.

Expertise:

By outsourcing content creation, you give experts the opportunity to shed light on new angles that can improve your business appeal. Copywriters know what factors to consider when analyzing company goals and assessing company content needs.

What has your

customer feedback

been? Is the tone of your written content appropriate for your desired audience (see strategy #1

in this article

)? Which keywords would be most effective on your website? A copywriter would know.
It takes a community to raise a business. Investing in online writing help can quicken your business growth, in the right direction.
Online Writing Help: 2 Things to Look for From a Content Creator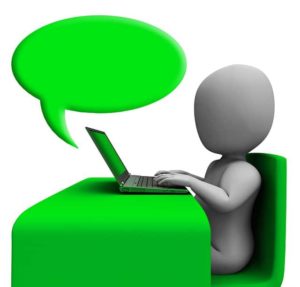 1. They ask the right questions: When seeking website content writing services, look for a provider interested in getting to know your business as thoroughly as possible. At Tangible Words, we ask specific questions so we can help you achieve specific results. Who is your target market? What is - or what would you like to be - the primary function of your company's website? This type of dialogue keeps all parties on the same page and demonstrates that your provider is invested in making sure you're happy with the resulting content.

2. They will ensure you're satisfied: Perhaps the resulting content isn't quite what you imagined. This happens. Good website content writing services will include edits so that you're satisfied with the material. It's not good business for either party if the content provided isn't what was expected. At Tangible Words, we understand. And we'll work with you as partners to ensure you get the content you need.
When you outsource content creation to experts, you're investing in quality growth for your website and your business. Tangible Words has the experience and know-how to help your business showcase its value to consumers online.
Does Your Company Website Need an Upgrade? See Quick Tips Below

References:
https://neilpatel.com/blog/6-content-writing-strategies-thatll-help-you-acquire-more-organic-traffic
https://yoast.com/whats-your-mission/