How can your company rank as one of the best manufacturing websites? Firstly, it's got to be visible to consumers. It doesn't matter how great your product or service is if the right consumers don't know it exists. And a website will only be visible if its content is valuable.


So how do you show Google your content is valuable, and gain visibility on the world wide web? In three words: search engine optimization. The best manufacturing websites made it to page 1 of Google by optimizing their website to rank high on major search engines.
An optimized website is one that builds authority.
5 Ways the Best Manufacturing Websites Get to the Top of Google
Here's how companies that manufacture bring in organic website traffic and improve their Google rankings:
1. Relevant keywords.
For Google to consider you an expert in your niche - and want to showcase your manufacturing products - you need keywords that speak to those products and resonate with your audience. Use a keyword research tool like Wordtracker to narrow down the terms that are highly searched for, but not too competitive. This is the sweet spot that will help companies that manufacture move up the rankings. Use your keywords in specific locations throughout your website for best effect.
2. Relevant links
.
Use both internal and external links. Every web page within your site should link internally to another page on your site. These links help to prolong visitor stays and give your carefully crafted content more exposure. External links share resources with your readers, adding value to their online experience, boosting your credibility, and bringing you closer to page 1 on Google. See quick tips for link management.
3. Relevant content
.
When crafting website content to attract manufacturing customers and reach the top of the search engine, make sure your words are reflective of your readers' needs. Just because a keyword is a popular Google Search term doesn't mean it's the right one for you. The more in tune your word choices are with your readers' needs, the more credibility you'll gain on the web and the closer you'll be to achieving your business goals.
4. Multiple online locations
.
Make it easy for your ideal consumer to find you. By supplementing your main site with a social media presence, you have the opportunity to strategically place additional links. For example, you can link a Facebook post you've created for an upcoming manufacturer tradeshow back to your website. This further builds your brand and authority, bringing in traffic from new avenues.
5. Knowledge of algorithms
.
Stay up-to-date on Google's changing algorithms - that is, the formula Google uses to rank websites. The algorithms continue to change in an attempt to keep only the most relevant and useful websites at the top of its lists. Knowing the algorithm means, for instance, that you know better than to do things like keyword stuffing; Google takes notice.
Knowing what Google expects from the best will help you stay at the top once you get there.
How to Get Website Content to Attract Customers and Impress Google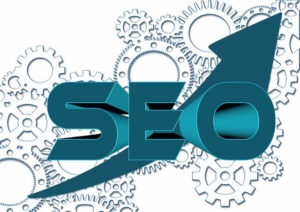 You know that every product or service you create is more than a product or service. You know that it's a solution! But how do you convey this to visitors to your website?
Content creation services can help companies that manufacture translate product features into consumer benefits. Professional copywriters and SEO marketers are skilled at creating content to attract manufacturing customers, and at optimizing websites for search engine rankings. Their services can free up more time for you to spend on production. That way, when your website becomes one of the best manufacturing websites and reaches page 1 of Google, you can deliver the best product to match.
Kick-Start Your Climb To The Top of Google
References:
https://ca.godaddy.com/help/what-are-organic-versus-paid-search-engine-listings-6584
https://www.wordtracker.com
https://moz.com/google-algorithm-change