To grow your manufacturing business' online presence, an attractive website with engaging content is a must. For a truly effective online strategy, it's also important to pay careful attention to your manufacturing website's search engine ranking.
Because a buyer's journey is carried out mostly online, visibility is key for the best ranked manufacturing websites. There are dozens of factors Google uses to rank content on the web, but some are considered more important than others. Three major areas to consider to improve your manufacturing website's Google page ranking: keywords, content and performance measurement.
Three Ways Top Manufacturing Websites Get Found On Google
1. Use SEO Keywords to Improve Google Search Results
With respect to search engine optimization (SEO)—the concept that generally governs a website's approach to appearing in search engine results—keywords are the words and phrases that comprise and describe all website content. When those same words and phrases are entered into Google, it crawls the internet for material that matches.

There are plenty of tools out there to help you choose keywords and measure their performance, such as Google's Keyword Planner and Google Trends. Research is key: understanding what visitors to your manufacturing website are searching for is critical to creating content that contains the same terms they use. After you've determined what keywords to use, it's important to know where to place them.
5 Places to Use SEO Keywords
Page Title

Page Description

Body of Text

URLs

Image Captions and Tags
Avoid stuffing too many keywords into your content, or duplicating content—this can have negative consequences for your website's Google page ranking.
SEO is critical to driving traffic to your website, and increasing business profitability. Master SEO techniques to drive online success.
Although strategic use of keywords is a useful tactic to get found on Google, there are other elements to consider. A great manufacturing website won't attract customers without considering SEO. So it's also important to understand that keywords won't be effective unless they're supported by great content.
2. Create Thoughtful Content to Attract Customers
The top manufacturing websites focus on content creation to tell their stories, and distinguish themselves from the competition. On a more fundamental level, however, interesting content keeps visitors and potential customers interacting with your manufacturing website for longer periods of time. This in turn tells Google that you are the 'expert' on this topic, causing your Google page ranking to go up.
3 Types of Website Content for Manufacturing Websites
Videos:

Creating a short video is an effective and engaging way to share what your company is about.

Photos:

Visual content is paramount to online marketing. Photo galleries are a great way to showcase your manufacturing company's product offerings. Don't forget to use SEO keywords in the captions and tags!

Blogs:

Blogging can help establish your manufacturing company's brand message and organizational culture. It's also another way for manufacturing websites to

showcase products

.
Once your SEO, keyword selection and content strategy are set, it's time to analyze the results of your efforts. This brings us to the third way top ranked manufacturing websites get found on Google…
3. Analyze Data to Measure Performance
If you don't track how your content performs, or how customers find you online, you won't be able to improve your online strategy. The top manufacturing websites will scrutinize various data to inform both their keyword selection and content strategy.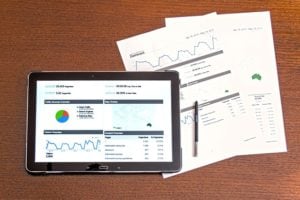 Google Analytics is a staple tool for browsing and understanding website traffic. By observing which pages and posts customers spend the most time on, you can determine what content best serves your manufacturing website. Google Analytics can also provide valuable information about visitors to your site, including your target audience.

Using keywords, creating great content, and tracking performance for future improvements are just three ways top manufacturing websites ensure they get found on Google.
References:
https://adwords.google.com
https://trends.google.com/trends/
https://www.google.com/analytics