Clutch Names Tangible Words as a Top Advertising & Marketing Agency
April 06, 2021 | 3 minute read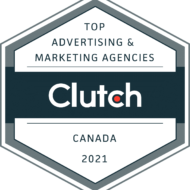 Tangible Words has been named one of the top advertising and marketing agencies in Canada. What makes us different from other sales growth and digital marketing agencies? We are a growth agency that focuses on increasing companies revenue with inbound marketing, sales processes, and growth-driven design websites.
Tangible Words, an award winning agency, can help manage your inbound marketing by tailoring a growth strategy to convert your leads to sales. We create high-quality SEO content for each stage of the buyer's journey and use a repeatable sales process to solve your prospects problems. When it comes to growth-driven design websites, Tangible Words focuses on content first, then design by creating relevant and engaging content to attract your audience. We will communicate with your team, train them and track every customer interaction to nurture the relationships.
At Tangible Words, our sales process is unique in that we value cultivating a trusting relationship with our clients through strong communication. Our expert team of copywriters identify your niche audience and define your buyers persona. We create compelling content such as landing pages, targeted emails and social media posts to meet your client's needs. We also analyze your company's data and work with multiple HubSpot tools such as lead scoring, lists and workflows to identify promising leads.
Areas of specialization include marketing automation, sales and funnel automation and customer service systems. Our company can help develop a communications plan and content strategy to shorten the sales cycle, close more deals, and ultimately achieve more quality leads.
We have been providing these services in the market for over a decade now. Throughout those years, our team was able to win multiple awards.
A few notable awards:
2018: Gold Women in Business Stevie Award in New York for Achievement in Promoting

Work-Life Balance
Today, we are proud to add another accolade to our roster. This time, it is from Clutch in 2021. Being named as a Clutch leader is such an honor!
Marketing Agency Tangible Words Takes the Spot As a Clutch Leader
For those of you who don't know Clutch, they are an established platform in the heart of Washington, DC, committed to helping small, mid-market, and enterprise businesses identify and connect with the service providers they need to achieve their goals.
Here is our CFO, Vicky Marrack to officially receive this award:
"We are thrilled to be chosen as one of the Highest-Ranking B2B Companies in Canada. Our team couldn't have asked for a better way to start 2021. You can expect that we will deliver the same amazing service this year!."
Tangible Words provides automated marketing and sales funnel services for your company while cultivating a strong relationship with your customers. How can we help your business thrive?
Speak with a specialist at Tangible Words & build a sales growth strategy to accelerate your business!
TW Blog Sign-Up
Learn more about how to grow your business and improve your sales team process.