#CoolCompanies How to Boost Property Values and Popularity: NatureKast
June 26, 2023 | 2 minute read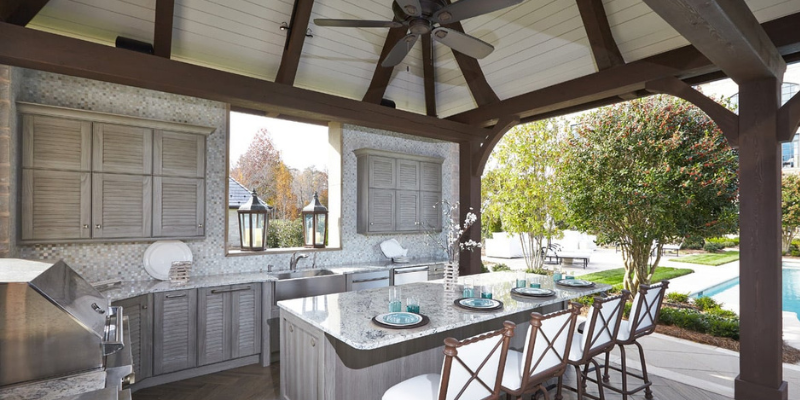 What if you could have everything you wanted in a kitchen and dining area AND have it outside? Whether your outdoor entertainment season is all year or just a season, NatureKast Outdoor Kitchen Designs lets you wow your friends under open skies.
How NatureKast Outdoor Kitchens Make Life Better
Get the most out of your summer season by entertaining outside in a beautiful space to cook, eat, and enjoy the company of friends and family. NatureKast custom outdoor kitchens offer a sense of luxury and spaciousness that you just don't get inside your home kitchen.
NatureKast specializes in custom designs and offers traditional indoor kitchen styles in wood and stone for cabinets that house grills, cooktops, sinks and appliances to fit your outdoor space. And, because the products are 100% weatherproof, you don't have to worry about damage in wet and cold regions. With the TV set safely ensconced in cabinetry that matches your outdoor kitchen design, you can even watch your favourite shows and movies outdoors while you're cooking and entertaining.
NatureKast was so successful in Florida–the company started there in 2009– that they decided to move to Canada in 2015 to keep up with the high demand for their products. After the move, more success followed. NatureKast has won multiple awards:
HBA Innovative Product of the Year 2020 from the Home Builder's Association of Greater Cincinnati (HBA)

2018 Best New Product / Service from the Builders & Remodelers Show (BRS Minneapolis)

2018 Two Best of KBIS: People's Choice Awards from the KBIS/NKBA
NatureKast products are sold through a 1,300-member dealer network, so they're easy to find near you!

NatureKast started working with Tangible Words so they could revamp their website. They wanted to include their inspirational designs more visually with improved user navigation and SEO. Tangible Words then created NatureKast's new website, capturing an extensive product range in a sleek yet powerful design layout offering homeowners a seamless way to envision their state-of-the-art outdoor kitchens. The site received the Web Excellence Award for Website/Home Renovation. The Tangible Words copywriting team created concise SEO copy to complement the new, easily navigable site.
Now, powerful imagery and clear language communicate the beauty and utility of NatureKast outdoor cabinets for your outdoor kitchen. See the NatureKast website here.
Love hearing about #CoolCompanies?
Find more stories here.
References:
TW Blog Sign-Up
Learn more about how to grow your business and improve your sales team process.