Understanding how to set up LinkedIn to increase online sales is a huge opportunity, with such a large number of top professionals networked together in one location, which is available to you 24/7 through your nearest device.
3 LinkedIn Stats that May Surprise You
LinkedIn is the #1 social media platform for content distribution

94 percent of B2B marketers use LinkedIn to distribute content

Content gets 15 times the interaction of job postings on LinkedIn
13 Ways to Optimize Your LinkedIn Company Page to Increase Online Sales
The purpose of the LinkedIn Company Page is to "raise brand awareness, promote career opportunities, and educate potential customers on your products and services." The more you educate and promote, the more sales you will make. There are various lists of top LinkedIn company pages, including Hubspot, and BeBusinessed.com. LinkedIn details their best practices in several resources, including a Playbook and Weekly Webcast. Here are 13 common elements of successful Company Pages.
Tell the Brand Story

Short overall company description (may include mission and vision statements)

Photos & rich media (can be organized in thumbnails)

Post frequent company updates, industry news, professional tips

Pin major announcements to stay at top

Post job opportunities and advice for industry job seekers

Organized, easy to find, diverse content (including concise summaries, relevant stats)

Link to own blog and other relevant blogs

Share employee stories

Cross-promotion

Acknowledge your followers directly (contest or offers; ask what they want to see more of)

Bright, positive, attractive, colourful, fascinating

Optimize text
Why Should You Use LinkedIn's Showcase Pages to Increase Online Sales?

If you have multiple products or services or multiple target market personas, use the Showcase pages to divide information. Breakdown target audiences/personas so that each group only gets the information that is relevant to them. A large, periodic event could have a Showcase Page as well, such as an annual conference, so that information and updates are made easily accessible to those followers.
The Showcase Pages facilitate the development of long term relationships and increase sales with a specific segment of your target market. This should be part of your long term marketing strategy. For one-time events or short term marketing campaigns, LinkedIn has other advertising products. LinkedIn Members can choose to follow one or more of your Showcase Pages, in addition to following your Company Page. Space for 10 Showcase Pages is provided.
"For business lines or initiatives with unique messaging and audience segments, consider creating a dedicated LinkedIn Showcase Page." -- LinkedIn
Find out more about Key features of a Showcase Page.
For great examples of quintessential Showcase Pages, see Adobe Creative Cloud and Marketing Cloud.
Comparing Features: LinkedIn Company Pages vs. Showcase Pages
Feature
Company Page
Showcase Page

Analytics (calculated separately)

x

x

Notifications (calculated separately)

x

x

Sponsor updates from the page

x

x

Feature groups on the page (up to 3 groups per company page)

x

x

Managing content through social media management (

write and schedule posts, manage comments, and monitor analytics from one place)

x

x

Appear in search results for searches and Ads business accounts

x

x

Followers select pages to follow individually – follower counts not shared

x

x

Associating employee profile with a company

x

Associating job posting with a company

x

Career Pages to showcase employment brand & culture

x
Additional LinkedIn Tools
Get More LinkedIn Followers to See Posts, Engage with Content, and Become Leads
Followers are your brand advocates and key drivers of word of mouth, recommendations, and referrals. To increase the number of LinkedIn followers, use the same strategy you use to manage the rest of your content. Create relevant, quality content that you share across your platforms to encourage target market engagement. Post your content frequently to build relationships with increased trust and solidified credibility. Use your Calls to Action to direct traffic to your lead collection forms. Making LinkedIn a regular, planned part of your long term content marketing strategy, will increase your online sales.
Learn Ways to Be Found Fast and Sell More Online. Free Infographic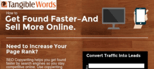 More visitors to your page means more potential online sales. Here's a FREE infographic to aid in boosting your online exposure. Learn SEO copywriting techniques so you're found online first.

References
Conference image: http://www.expos-online.co.za/wp-content/uploads/2016/02/conferences.jpg
LinkedIn on Tablet image: https://www.mltassociates.com/wp-content/uploads/2016/09/linkin-network-1024x683.jpg
https://press.linkedin.com/about-linkedin
http://bebusinessed.com/linkedin/best-linkedin-company-pages/
https://blog.hubspot.com/marketing/companies-rocking-linkedin-company-pages#sm.0000z5wqen4v2dqsufn1wjwmc756r
https://business.linkedin.com/content/dam/business/marketing-solutions/global/en_US/site/subsites/content-marketing/pdf/CompanyPagesPlaybook6-11-13.pdf
https://business.linkedin.com/content/dam/business/marketing-solutions/global/en_US/site/subsites/content-marketing/img/V2/e3_Infographic_Draft_11_1200.pdf
https://business.linkedin.com/content/dam/business/marketing-solutions/global/en_US/ms/company-pages/PDF/linkedin-publishing-playbook.pdf
https://business.linkedin.com/marketing-solutions/company-pages/get-started#Create
https://business.linkedin.com/content/dam/me/business/en-us/marketing-solutions/products/pdfs/LISponsoredContentDatasheet5-2-16.pdf (talks about getting buyers early at awareness stage)
https://www.linkedin.com/help/linkedin/answer/44863
https://www.linkedin.com/help/linkedin/answer/44865
https://www.linkedin.com/help/linkedin/answer/44674
https://www.linkedin.com/help/linkedin/answer/44855
https://press.linkedin.com/site-resources/news-releases/2016/linkedin-for-good-2016-year-end-report
https://premium.linkedin.com/
https://www.linkedin.com/help/linkedin/answer/44855