For your company to grow you need to learn social media for manufacturing companies. To attract international customers, your website must compete globally. More clicks mean more sales, but how do you get those international visitors to your website?
One answer is to use social media marketing (SMM). SMM delivers your company message right to a customer's digital door. And it can be executed with minimal costs. If done properly, SMM continues to work for itself, as the content is shared over and over again. But can social media for manufacturing companies really help attract international attention?
3 Social Media Platforms You Can Use To Grow Your Business Internationally
1. Facebook Can Reach International Customers
With an average 1.32 billion monthly active users, (versus 236 million from North America), Facebook has an unprecedented reach towards potential international audiences. Building a Facebook page for your business is like having a free secondary site. It can deliver content directly to the newsfeeds of countless international users. Facebook can absolutely extend the reach of your marketing. What is even more interesting to those looking to attract international customers is the number of Facebook users who live outside North America (spoiler alert: it's a lot).
Facebook's Key Demographics
Up to 8% more online women use Facebook than men.
Internet users in suburban settings are less likely to use Facebook than urban and rural settings.
People who earn less than $30K a year are 7% more likely to use Facebook than people who earn $75K or more.
2. Post on Twitter to Reach Youth and High-Earners
Though not as impressive as Facebook, Twitter still boasts an impressive 328 million monthly active users, and will catch anyone who slips through the cracks in your Facebook content.
Knowing which demographics use each social media platform can help you develop a buyer persona—an imagined audience you can target your marketing efforts towards.
Twitter content is easily categorized thanks to hashtags, and any content posted on your Facebook page can easily be linked to (or turned into) a Twitter post. Hosting a Twitter conversation, tweeting at conferences, retweeting appropriate content, and developing a Tweeting plan will help develop an international following and are all ways of effectively guiding your social media presence.
Twitter's Key Demographics
Internet users 18-29 years of age are 13% more likely to use Twitter than users 30-49.
Higher-earning and higher-educated users are more likely to use Twitter than lower-earning users with less education.
3. LinkedIn Is the Perfect Platform for Distributing Manufacturing Content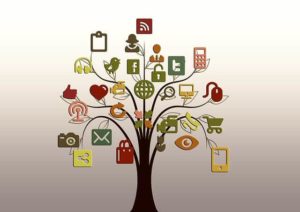 LinkedIn tends to be more career and business-focused than Facebook or Twitter. Yet it actually outpaces them when it comes to content distribution. For example, LinkedIn's content gets more interaction than its job postings. LinkedIn currently boasts more users than Twitter (467 million worldwide). As an option for social media for manufacturing companies, >adding a LinkedIn page for your business will increase your reach. And, it's easy, free, and comes with the promise of increased content distribution.
LinkedIn's Key Demographics
4% more online men use LinkedIn than women.
Internet users in urban areas are 16% more likely to use LinkedIn than those in rural locations.
Users with a college degree or higher are much more likely to use LinkedIn than those with a high school diploma or less (up to 38%).
Social Media Marketing Has No Borders
Each social media platform has its pros and cons. Understand these strengths, differences, and focus areas. Knowing the potential reach and main audience of each platform is key to developing an international following. In order to increase your brand's reach, manufacturing companies should use social media as a tool, not an afterthought, to develop that following.
Expand Your Business Through Social Media For Manufacturing Companies

References:
https://www.statista.com/statistics/247614/number-of-monthly-active-facebook-users-worldwide/
https://www.statista.com/statistics/282087/number-of-monthly-active-twitter-users/
https://www.statista.com/statistics/274050/quarterly-numbers-of-linkedin-members/
https://sproutsocial.com/insights/new-social-media-demographics/#linkedin
https://www.statista.com