Using websites, blogs, social media posts - inbound marketing - is an inexpensive and far reaching way to earn international sales for businesses that manufacture.
Inbound marketing is a magnetic type of marketing meant to attract customers to you and convert leads to sales. When it comes to the success of international sales for companies that manufacture, inbound marketing opens your influence to a global market. Inbound marketing optimizes your company's accessibility and appeal online.
Manufacturing Companies: Why Inbound Marketing Is a Difference-Maker
Content is the crux of inbound marketing.
Quality content gives inbound marketing the sustenance it needs to create leads that boost international sales for companies that manufacture. Inbound marketing not only creates leads, it uses quality content to care for those leads, supporting their blossom into sales. First, you have to choose the correct content.
Choosing appropriate content to convert leads to sales can be fruitless without a clear buyer's persona in mind. What is your ideal international customer looking for? How can you be of the most help to them, and how can you ensure they know when you have the solution they need? You can find this out by engaging with them online. Exchange content with your potential international customer frequently to stay in tune with their needs and to build a global audience. Then, when your product is the solution to their problem, they'll know!
Inbound marketing lets your audience come to you; it respects their choice and offers options.
3 Tips To Increase International Sales For Manufacturing Companies
Online writing help makes it easier to use inbound marketing to increase online traffic. Using well written, strategic content not only attracts global customers it keeps them loyal to you.
If your manufacturing website is not seeing much traffic flow, try employing these tips to boost viewership of your website and attract international customers.
1. SEO with Keywords:
Companies that manufacture can benefit from brainstorming keywords in keeping with company offerings. Use a keyword search tool like the one at moz.com to find out how your word ranks, and how many times it's searched per month. Standing out on the big search engines requires a content strategy that includes effective keywords.
2. Diversify Content Placement

:
Put content in more than one place. If upon researching your ideal international customer you discover their preferred social media platform is LinkedIn, or that they respond well to email newsletters, prioritize these avenues. But don't restrict yourself either.
The beauty of inbound marketing is the scope of its reach.
If you present the content your industry desires - and reach out in places your competition isn't - you could make unexpected and highly beneficial industry connections. With inbound marketing it is, after all, they who come to you. Plus, the more places you can be found, the more authority you can build with Google!
3. Diversify Content Type: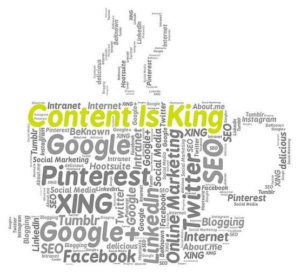 Companies that manufacture deal with many moving parts. Showcase them! Quality content isn't limited to a powerful paragraph on a home page. Quality content is your company message spread throughout your website, your blog, your email marketing campaigns, social media platforms...in multiple forms. Does your company manufacture windows and doors? Post images of your products and current projects. Even better, if what you've built serves a need in your community, show it! If company policy allows, post a video of the production process and upload it to your site. Invite international clients to see what you're all about - without the need for a plane ride.
Inbound Marketing is convenient for both parties. And successful for both if you invest in the right content.
If you're still struggling to attract international customers, seek online writing help and find out what content can break the barrier. Don't fret if crafting content isn't your strength. Expert advice from Tangible Words is here for you.
Use Your Website To Convert Leads To International Sales For Companies That Manufacture
Once you've had success gathering leads with inbound marketing, it's time to maintain and grow your relationships - and convert leads to sales. Getting content out there puts eyes on your work and your brand. Then maintaining and upgrading that content helps you maintain and upgrade those relationships.
Smarketing keeps this process smooth because your marketing and sales teams work together to achieve your business goals. Leads need to change hands at the right moment to become sales, so make sure the lines of communication between departments stay open. Continue to deliver valuable and reliable website content to not only attract local and international interest, but to see this interest evolve into sales.

Interested in incorporating an email list on your website? These days, website software makes integrating mailing lists relatively simple. And there are several options available through WordPress alone. Attract international customers by making it easy for them to stay in the loop with an email subscription.

Again, having online writing help on standby may be the ticket to international sales for companies that manufacture. Whether you outsource content creation or not, post frequently to your website so your audience knows you're engaged, and stay on top of their changing needs.
For You: Website-Specific Tips For A Well-Rounded Inbound Marketing Campaign
Inbound marketing with strong content is a strategic way to attract new manufacturing customers to your company and grow your business.

Learn how you can be there for the entire buyer's journey of your ideal international customer...and guide prospects to the unique solution only you can provide.
References:
https://moz.com/explorer

https://www.wpkube.com/list-building-wordpress-plugins/