A Comparison of 5 of the Best Social Media Management Tools
June 09, 2020 | 11 minute read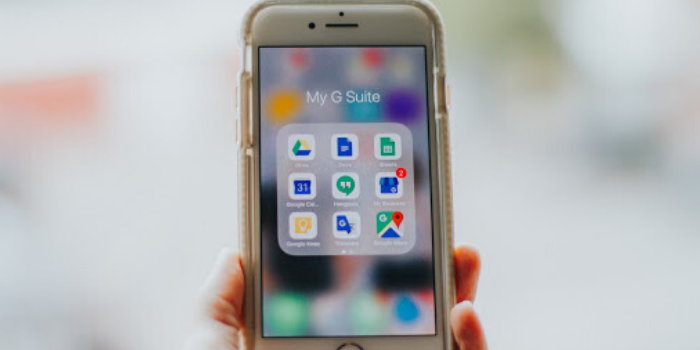 Social media connects an online community of over 3 billion users worldwide. Those are a lot of eyeballs to get your messaging, products and services in front of! Between coming up with clever posts, creating eye-catching visuals and monitoring and responding to comments, social media is a full-time job.
That's where social media management tools come in. You can grow an active audience by having everything in one place to help you plan out your social media strategy. Social media management tools can help:
save you time,
schedule your posts in advance,
monitor trends and engagement with your audience,
& more.

If managing your company's marketing has you too busy to look around for the right tool for your business, don't worry. We'll save you the hassle by comparing them for you.
Comparison is an easy way to ensure you're getting the best bang for your buck. It's important to gauge what you need in order to support your social media strategy. Look for things that will affect your use of the tool, like the number of social media profiles you can add or the type of media you want to use (like video).
A free trial or demo allows you to try out the software before you buy. Make sure:
It has the features you'll need and will use,
is user-friendly,
& is easy to set up and supports all of your company social media platforms.
A Simple Comparison of 5 Social Media Tools
In the following chart, we'll look at 5 popular social media tools and compare them based on things like cost, user-friendliness, and technical support.


Free version available

✅

✅

Free trial available

✅

✅

✅

✅

✅

Number of days on free trial

30

14

30

14

14

Monthly subscription fee

$29

$15

$99

$9

$800
(for full Marketing Hub. Includes use of Blogging, Landing pages, Emails, Ads)

Number of social media profiles

10

8

5

10

unlimited

Number of scheduled posts

unlimited

100

unlimited

unlimited

unlimited

Campaign tracking, tagging and reporting

✅

✅

✅

✅

✅

Ability to boost social media posts

✅

✅

Includes analytics and reporting

✅

For an additional $35/month, Buffer allows 3rd party integrations (setup will be required)

✅

✅

✅

Available support options

Live chat
Phone
Email
Community forums

Live chat
Phone
Email
Community forums




Live chat
Community forums

Live chat
Phone
Email
Community forums

Discounts for nonprofits

✅

✅

✅

✅

✅

Supports video

✅

✅

✅

✅

✅

Ability to customize video thumbnail

✅

✅

✅

Here Are the Pros and Cons of Each Social Media Management Tool
1. Hootsuite
Pros:
Includes a robust set of analytics
Can bulk schedule an unlimited number of posts per month
Easy to use, navigate and view audience engagement and schedule or publish posts
Cons:
Post previewer is limited and not always accurate of how the post looks when published
There are reports of posts failing to send with no warning
Issues with Instagram management can lead to low quality posts


2. Buffer



Pros:
Buffer time slots allow posting times to be customized; posts can be automatically scheduled in sequences during those times
Ability to customize posts for each platform
Clean user interface and dashboard makes bulk scheduling simple and organized
Cons:
Using Buffer Analytics requires a separate paid package
Reports of issues when posting to Instagram
No calendar view available
Tagging users and brands is not available for all platforms
No ability to advertise on social media


3. Sprout Social
Pros:
Robust analytics and reporting
Good for monitoring trends, messages and audience engagement
Ability to build chatbots inside the tool
Cons:
Cannot manage more than 5 accounts at one time on the standard package
Reports of issues with Instagram management, including API
High price point
Cannot create full social media campaigns for advertising

4. CoSchedule
Pros:
Low price point
Good for combining content marketing with social media posting
Easy to customize posts for each individual platform
Cons:
Many reports of publishing errors with CoSchedule
Limited to planning only 1 month at a time
More technical know-how required for setup
No ability to advertise through the tool
Technical support is limited in comparison to competitors
Cannot customize video thumbnails when scheduling video content
5. HubSpot
Pros:
Bulk scheduling allows for planning months in advance
Easy to add and edit posts
Built-in mechanisms indicate any issues, i.e. duplicate posts, more than 150 characters on Twitter, etc. which minimizes the margin of error
Easy to read reports and analytics allow for improving marketing efforts, and tracking customers, conversations and sales
Cons:
High price point, but HubSpot users get what they pay for, including the ability to publish pages and blogs to their websites, send marketing emails and create advertising campaigns
HubSpot suggests posting times, but to post outside these times requires manual override
No ability to add or edit a custom thumbnail on video content
Tangible Tips From Your Favourite Social Media Experts
As you home in on which of these tools suit you best, online reviews can further aid your decision. We always recommend taking advantage of a free demo if one is available.
Should you go for the free version? Free versions of social media management tools are nice, but you get what you pay for. For instance, Hootsuite's free version only allows you to post a maximum of 30 posts altogether - not great if you really want to save time and schedule your posts months in advance. However, if the free version supports all your needs, that's great! As your company grows, you can grow into the other versions when you need them.

Try HubSpot's FREE Demo and Actually See Results From Social Media

References:
https://hootsuite.com/
https://buffer.com/
https://sproutsocial.com/
https://coschedule.com/
https://www.hubspot.com/
https://zapier.com/blog/hootsuite-vs-buffer/
https://www.hubspot.com/pricing/marketing
https://help.hootsuite.com/hc/en-us/articles/115005151107-Scheduled-post-failure
https://www.socialmediatoday.com/news/instagram-changes-api-limits-crippling-some-third-party-analytics-apps/520435/
https://coschedule.com/support/troubleshooting/error-messages/why-didnt-my-social-messages-publish/
TW Blog Sign-Up
Learn more about how to grow your business and improve your sales team process.