How To Quickly and Easily Create Webinar Landing Pages
March 26, 2020 | 4 minute read
Educators who work in an online environment spend a lot of their time developing and presenting educational webinars to millions of people around the world. Webinars are an excellent way to connect with your audience, gather feedback, attract new students, get to know your existing students, and collect new sales leads.
Webinars are also an excellent way to get new sales leads, build customer relationships, and help establish you as an authority in your field.
So we agree, webinars are excellent tools for marketing, education, and community building. They can help your company rise to the top as an industry authority and help bring in more sales and talent.
BUT: putting together a webinar can feel like you're biting off more than you can chew and the pace at which you need to be able to create, advertise and deliver your webinars needs to be fast - without adding project administration headaches and massive web design costs.
What Do Webinar Landing Pages Need?
All webinars need a landing page where guests can register for the event.
Before you read this blog post (!) this meant you had have to hire a web designer or developer to set up a new page for every single webinar.If you don't have your own CMS, you can't easily rescue the same page for each webinar. Worse, if you don't have a tool like Hubspot as your CMS for those pages, you can't see who is clicking on the page, you can only see who winds up registering for your webinar. That means you've got a total website asset bleed on your webinar.
What about all those people who are interested in your webinar but can't attend? You'll have no way to track and communicate with them in future which means all the money and time you spent driving traffic to your webinar landing page is at least 80% lost (since you can expect less than 20% will convert).
Of course, Landing pages should always show your potential viewers 3 things: a clear compelling headline, benefits-focused copy to show them exactly what they'll get or learn from this webinar, and an obvious call-to-action registration form and button.
But in fact, webinar registration pages are a great opportunity to collect valuable lead information. There needs to be a balance between enough info to qualify leads, and not so much info that people can't be bothered to finish filling out the form. If personal information is the currency of internet marketing - you can't be "too expensive" for the value the webinar appears to provide in its landing page.
In regards to visual style, webinar landing pages benefit from simplicity. Lots of whitespace. Short copy that gets straight to the point. Bullet point summaries for learning outcomes - and an easy way to sign up and register of course.
How We Create Webinar Landing Pages in Minutes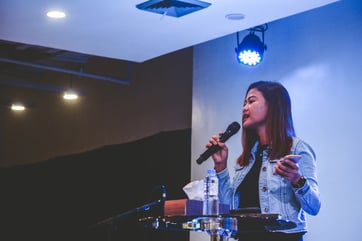 This is what we do with our education and association clients who are running webinars: we get them onto HubSpot! Here's why:
With Hubspot, you no longer have to spend the money on hiring out someone to create a landing page for each new webinar you host.
HubSpot makes landing pages super easy. And it integrates with GoToWebinar, Clickmeeting, and Zoom.
Best of all: with a pro-level HubSpot subscription you can start to segment your webinar registrants right away, as soon as they start to register.
And it gets better - you can further sort contacts into segments the day of the event, into categories like "contact registered" or "contact did not register", or on the day of: "contact attended" or "contact has not attended". This segmentation allows you to really narrow down your targeting for each specific segment. Like sending a "Hey, sorry you missed this, here's the recording!" or "Hey, thanks for attending, what did you think of the webinar? Here is the recording, and here are the extra resources we mentioned."
And now I'm going to rock your socks off: any contact who is in your Hubspot CRM already? Anytime they visit your webinar landing page (from an email, social media etc) - you can be notified.
Heck you can even make a live chat box just for your webinar landing page and have a chat bot or a live chat agent like yourself ready to answer any questions people often have when viewing a webpage. "Does this date and time not work for you?" and let the bot tell them the next date and time - all with automation features.
Give it a Try for Free!
References:
https://knowledge.hubspot.com/cos-pages-editor/create-and-edit-pages-in-hubspot?_ga=2.143269045.1657979053.1582921850-2037833829.1582921850
https://knowledge.hubspot.com/integrations/use-the-gotowebinar-integration-with-hubspot
TW Blog Sign-Up
Learn more about how to grow your business and improve your sales team process.