Strengthen Your Marketing Team with HubSpot's New Powerful AI Tools
August 30, 2023 | 4 minute read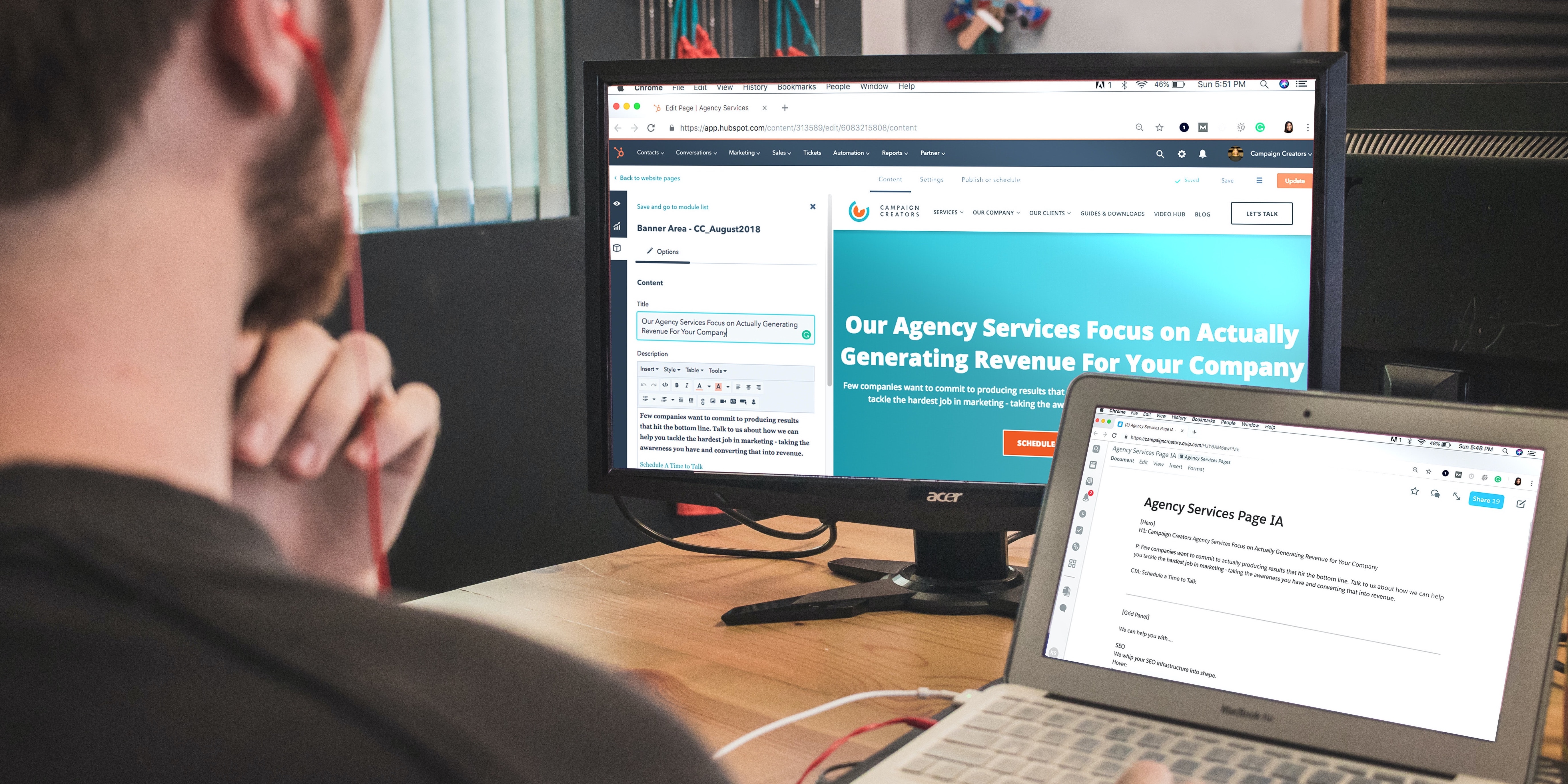 Let's face it, AI is taking the world by storm. As AI marketing continues to influence the industry, it can feel like you and your business are running just to keep up. Thankfully, HubSpot has created features to help you be at the forefront of industry changes. HubSpot's two new AI tools can assist you in your daily tasks: ChatSpot and Content Assistant. Together, these tools offer a seamless introduction to open AI. New technology can be intimidating, especially when that technology that is rapidly changing your industry. Though sometimes intimidating we believe open AI gives marketing professionals more time to generate strong ideas while reducing the time it takes to execute them. As a Hubspot Agency Partner we want to help you see how these features can make your job easier and make you a better marketer. The future of marketing is here! Let us introduce you to your new assistant: HubSpot's AI tools.
HubSpot's AI Tools
As AI technology becomes more mainstream it's important to understand that AI tools aren't designed to replace your work but to help you produce your work more efficiently. Sometimes the biggest business challenge is finding enough hours in the day. There's nothing worse than sitting down to do a task and realizing you don't have the data you need to do it. Searching for even the smallest pieces of information can waste valuable time and build frustration. Don't waste time searching for answers, get them in seconds with HubSpots AI tools.
ChatSpot
We all have those days where it feels like we need a team of us to get things done. As a CRM tool, HubSpot is designed to keep your marketing needs in one place. With HubSpot's ChatSpot tool connected to your portal, you can easily delegate tasks – like generating email and content ideas when you need an extra hand. Utilizing Open AI's ChatGPT model, ChatSpot helps you accomplish what you already do in HubSpot, faster. ChatSpot streamlines important tasks including :
Reporting
Forecasting
Prospecting
Need to send a follow-up email? Ask ChatSpot to draft one for you. Need to know how many unassigned contacts you have? Ask ChatSpot and get the number in seconds. ChatSpot is set up specifically to help sales, marketing and service professionals work faster and smarter. In essence, ChatSpot is a search engine tailored for you and your company as it analyzes your data to create informed suggestions. ChatSpot is a powerful tool but your creativity is still the foundation of your work. After all, you know your consumers and are still the best person to connect with them. Think of ChatSpot as a floating team member there to assist you with the nitty gritty tasks that pile up and take too much time in your day. Free up more time to focus on the important stuff by leaning on your new personal assistant from HubSpot, ChatSpot!
Content Assistant
We are in the content generation where creating engaging and effective content is an essential part of business. Quality content attracts leads, keeps existing customers engaged, and drives revenue growth, but creating that content is not a simple task. You put in hours of brainstorming, and data analysis before you even start writing. HubSpot understands the specific and growing demands that come with content creation in the marketing world and are introducing their Content Assistant to be your new writing partner. Like ChatSpot, HubSpot's Content Assistant tool is integrated right into your portal to help you brainstorm, outline and create content. You can use this tools to:
Get blog ideas
Generate email drafts
Amplify your existing campaigns and ideas
Expanding on what ChatSpot can do, HubSpots Content Assistant helps you create tailored blogs, landing pages, emails and so much more. Your Content Assistant doesn't do the work for you, but instead provides useful suggestions, just like your iphone does when you're texting and get stuck on what to say. At work your brain is juggling countless stresses and sometimes needs an extra push to stay focussed and get on track. Even the smallest task, like coming up with a captivating subject line for an email, can feel like it needs more brain power than you have left and that's where your Content Assistant comes in. Tell your content assistant what your email is about, ask for a strong headline and receive a suggestion in seconds.
Your Content Assistant is more than just a brainstorming tool, it can also expand, shorten or rephrase the tone of existing copy. Simply highlight your text and hover over the lighting button to see your rephrasing options.
Let's see it in action,
Now let's take a look at its expanding capabilities,
AI technology doesn't mean sacrificing quality, remember it's our human touch that makes our work stand out. AI has powerful capabilities but can't replicate the human creativity you possess as a marketer. In order to be useful, AI needs good ideas, it needs you. No matter how creative you are, we all get stuck from time to time. There's no shame in getting help beating your writer's block, that's why I turned to HubSpots ChatSpot to help me get ideas for this blog flowing! Save time to focus on your most important tasks by utilizing your new HubSpot AI assistants – ChatSpot and Content Assistant.
Want to Learn More About HubSpot?
HubSpots new AI features are exciting additions to this already powerful tool. HubSpot is all about streamlining and simplifying your sales and marketing tasks and has so many downloadable features you can add to help optimize your portal. As the industry continues to rapidly change it is important that you not only know the power of these emerging tools but learn how these tools can help your company grow. Want to learn more about how to tailor your portal? Sign up for our HubSpot bootcamp to discuss your challenges and get the strategies to fix them.
References
https://www.hubspot.com/artificial-intelligence
TW Blog Sign-Up
Learn more about how to grow your business and improve your sales team process.