You've got a great product or service and amazing staff supporting you, but tapping into what your customers think can be a difficult task.
Customers today expect quick service and have much higher expectations than they did in the past. Providing excellent customer service is a key component to nurturing returning customers and giving them a reason to offer
word of mouth
recommendations for your business.
Ultimately, you want to know how happy your customers are and how to make them even happier. By choosing to survey customers, you'll get valuable information for your sales team in order to keep customers delighted and loyal to your brand.
Three of the Best Ways to Survey Customers
1. Send Surveys Out to Current Customers
The most direct method of determining how satisfied your customers are is to ask them directly. Your in-house marketing and sales teams can create a survey that captures customers' thoughts and the metrics you are curious about. Smaller sales teams can use a free tool, like SurveyMonkey, to quickly craft a survey for clients.
The benefits of creating a survey to gather customer satisfaction data are:
Surveys are repeatable during different times of the buyer's journey
Datasets are comparable when gathered from the same survey
Creating surveys is easy
Answering surveys is quick for customers
Keep in mind that your customers' time is valuable, so the shorter the survey, the better. You could create different types of surveys to send out, including customer service interaction satisfaction, product quality, sales process ease and the likelihood of becoming a return or referring customer.
2. Gather Customer Feedback from Sales and Service Staff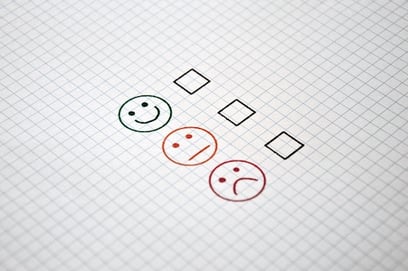 If a survey process sounds too time consuming for your sales staff, consider tapping into the customer knowledge you already have in your sales team. Ask your sales and service staff to document when a customer presents a complaint, a compliment, or a suggestion for improvement.
After a few weeks of collecting data on customer feedback, you'll be able to identify trends. You can begin addressing the areas that are receiving the most complaints and ask your staff to be a part of the solution. After all, your sales and service staff speak to customers and potential customers every single day.
The benefits of gathering data from your team are:
The process is natural and interactive (conversation)
You get a good idea how to improve the product or service
Customers feel like people are listening to them and taking their opinions seriously
3. Use a Customer Satisfaction System
To encompass all your customer service actions and feedback into one tool, consider implementing a customer satisfaction system, such as HubSpot Service Pro. The online tool centralizes all customer service data, contains an effective ticketing system to solve customers' problems, and you can survey customers.
HubSpot Service Pro:
Includes a customer feedback tool
Enables the concerns of customers to be dealt with faster
Allows your staff to check in on customers across marketing, sales and service
Surveys customers regularly
Offers a free trial
The HubSpot tool is a professional solution that will brand and systematize your customer surveys and customer service protocols.
Get to Know Your Customers Better Using HubSpot
Surveying your customers will bring you valuable data that can improve your sales process and customer service systems to create more repeat customers and referrals. HubSpot Service Pro offers built-in survey capability and the core HubSpot CRM is always free.
References: